Hacked WordPress? Lets see how you can fix your hacked WordPress site. The first thing you need to do is don't panic.
Whether it's due to the developer's inadequate security measures or the usage of one of the many plugins that are readily available (and whose security cannot be guaranteed). It's not surprising that WordPress websites are a target for both novice and skilled hackers given that it powers one to five websites on the Internet.
A little bit of prevention is worth a lot of treatment. Regarding WordPress website hacking, this couldn't be more accurate. WordPress websites are infiltrated by bots that are simply designed to take advantage of well-known and documented security flaws, not by clever and experienced hackers. These flaws include out-of-date plugins, insecure passwords, out-of-date themes, and subpar web hosting.
Warning Signs Of Hacked WordPress Site
Operating a WordPress website nowadays is risky; preventing a hack is frequently more of a matter of luck than of prepared security. Every WordPress site owner should be alert to signs that indicate that their website may be in danger because of this. Your WordPress website will likely get infected with numerous forms of malware, viruses, and worms sooner rather than later.
Whenever your WordPress site is hacked, you will see some some drastic changes in your WordPress site. Here are several fundamental signs that hackers find your WordPress website appealing. Additionally, look for indications that a threat actor may well be attempting to break into your website using various malware kinds.
Your Website Has Modified
The homepage being changed to a static page is one type of hacking. Your website has likely been hacked if it appears completely different and isn't using your theme.
The modifications could be subtler, such as the addition of erroneous content or connections to questionable websites. You may have been hacked if your footer is jam-packed with links that you didn't create, especially if those links are obscured or in a small letter size.
Check with other site admins or editors to make sure they haven't unintentionally made the changes before assuming you've been hacked.
Your Website Is Redirecting to some other site
When someone visits your site, hackers occasionally inject a script that sends them to another. You probably won't want your users to be sent to this website.
They might do this to divert visitors from your WordPress site to another website or perhaps just for fun!
Browser Alerts
Your site may have been hacked if your browser is alerting you that it has been compromised. You may need to remove some code from a theme or plugin, or there may be a problem with domains or SSL.
Search Engine Reminders
If your website has been compromised, Google may warn you when you search for it. This could indicate a sitemap hack, which would change how Google crawls your website.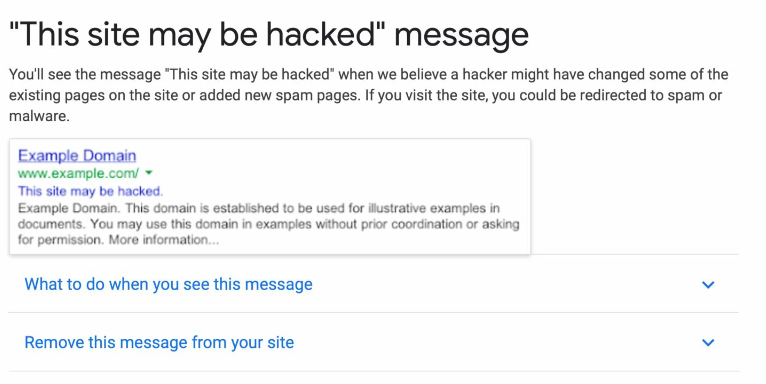 You Cannot Sign In
If you are unable to log into your website, this can indicate that you have a hacked WordPress site. The more likely scenario is that you just forgot your password. Therefore, consider changing your password before assuming that you have been hacked. If you are unable to, this is a red flag. Even if you are able to, you might still have been hacked, in which case you will need to conduct further research.
Sometimes hackers disable users or alter user credentials to block access. Your user account might have been deleted, which is a symptom of hacking, if you are unable to reset your password.
The Reasons Behind a Hacked WordPress Site
There are several reasons why WordPress websites are compromised, however the most frequent ones are listed here.
Insecure Passwords
Your WordPress users' passwords are the first line of defense in maintaining a safe WordPress website. Someone gaining complete admin access to your website if they guess your login credentials is not a good situation.
Users consistently choose weak passwords, thus the problem is closer than you might believe. Learn the characteristics of a strong password. Consider length as opposed to a complicated character mix, for instance. Longer passwords are far more difficult to decipher and guess. Use a password manager constantly to avoid having to remember complicated passwords.
The best method to protect your website is to implement strict password regulations.
Outdated WordPress core, plugins and themes
The majority of the time, obsolete software has flaws. Therefore, by using outdated versions of the core, plugins, themes, and other software, WordPress administrators make their website vulnerable to hacker attacks. Unfortunately, they frequently do so; one of the most typical reasons for hacked WordPress websites is outdated, susceptible software.
Attackers understand this. They actually have a ton of free scanning programs and scripts that they frequently employ to find and attack large numbers of WordPress websites that are weak.
Plugins and themes are from unreliable resources
Your website may contain vulnerabilities brought on by plugins and themes that aren't from reliable sources. Install them from the official theme repository if you need free WordPress themes or plugins.
Check the reputation of the vendor before purchasing paid themes and plugins, and ask for referrals from sources and individuals you trust. Never install nullified plugins, which are expensive plugins from websites that offer them for free and are intended to harm users or gather data.
Lacks basic security
You can take a lot of steps to safeguard your website from threats. The good news is that a lot of security best practices aren't as difficult to put into effect as you would think.
Think about two-factor authentication (2FA). It can be quickly implemented by using a WordPress two-factor authentication plugin. Additionally, it significantly lowers the likelihood that attackers would succeed in accessing your website, even if they have user credentials stolen.
The installation and configuration of a WordPress security plugin also doesn't take long.
Keeping an activity log for WordPress is another easy recommended practice for security. This enables you to keep track of essentially anything that occurs on your website, from failed login attempts to changes to its files.
The issue is that the majority of individuals don't spend the time learning about fundamental WordPress security features. They do not believe that there is a risk to their website. Implement the security best practices listed above if you don't want your website to be included in the well-known hacker statistics.
How WordPress is Vulnerable to Hacking?
Regardless of how big or tiny you think your site is, you must realize that attacks will occur. Hackers create software that automatically searches the rest Of the internet for WordPress sites and examines, each one they find. These scripts will check your website for common flaws.
The following are the primary methods hackers use to access your site if you want to learn more about how WordPress sites are breached rather than immediately moving on to what to do if your own website has been compromised:
Backdoors.
These avoid using the typical access methods to your site.
Pharmacy fraud.
A technique for sneaking malicious code into outdated WordPress versions.
Login attempts using brute force.
When cybercriminals utilize automation to access your website using weak passwords.
Malicious rerouting.
When dangerous redirects are added to your site using backdoors.
Cross-site scripting (XSS).
The most frequent vulnerability discovered in WordPress plugins allows hackers to deliver malicious code to a user's browser via injecting scripts.
Denial of Service (DoS).
When programming flaws or problems are utilized to overload a website until it stops working.
What to do if a WordPress site is hacked?
The procedures you must follow will vary depending on how your website was compromised, so you may not have to go through each one. We'll take the following actions:
Remain Calm.
I am aware that telling someone to calm down is the worst thing you can say to them. But in order to identify and address the issue, you must be mentally clear. Being in a panic and having difficulty thinking clearly could cause more harm than good.
Set the maintenance mode on your website.
Visitors shouldn't stumble upon your website in a vulnerable state, and you also don't want them to see how it will seem while you're correcting it.
So, if you can, switch it to maintenance mode.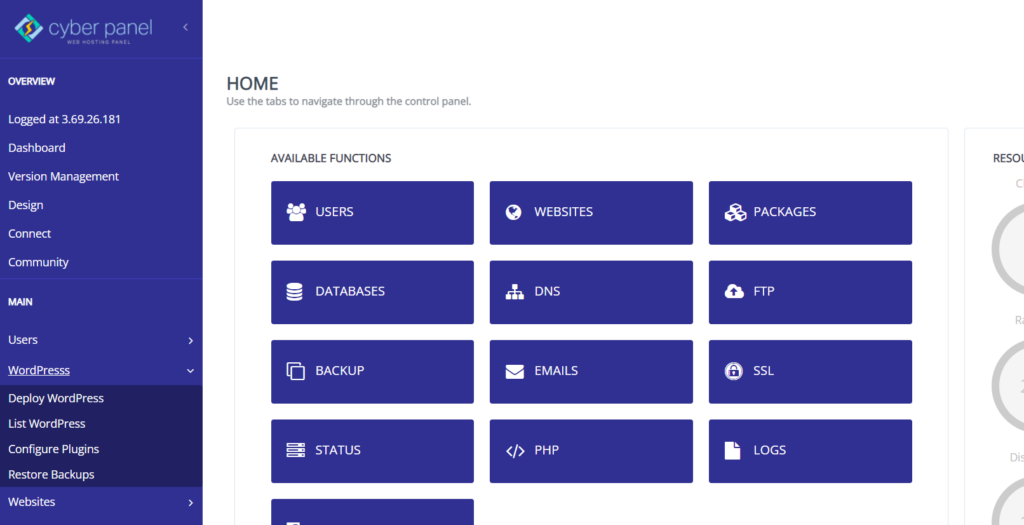 Click on WordPress -> List WordPress from the left hand side menu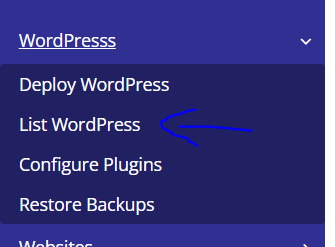 You will enter the List WordPress Websites. From here, Click on your WordPress Site Title.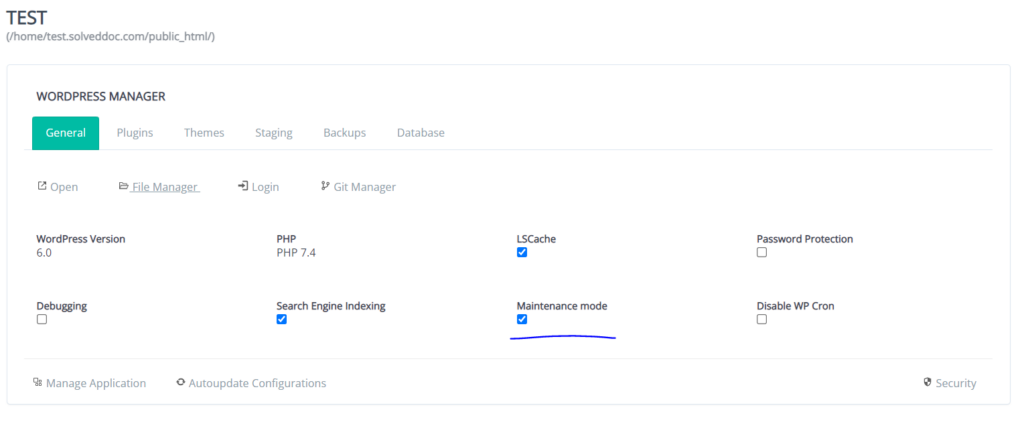 After doing that, you can feel a little more at ease knowing that nobody can see what is happening. You might simply enter a brief explanation and leave it at that. You may now access your broken website, but others cannot.
Change WordPress Password
It's crucial to change them all to stop the hacker from using them again as you don't know which password was used to access your website. Your WordPress password is only one example of this.
Enter your WordPress Dashboard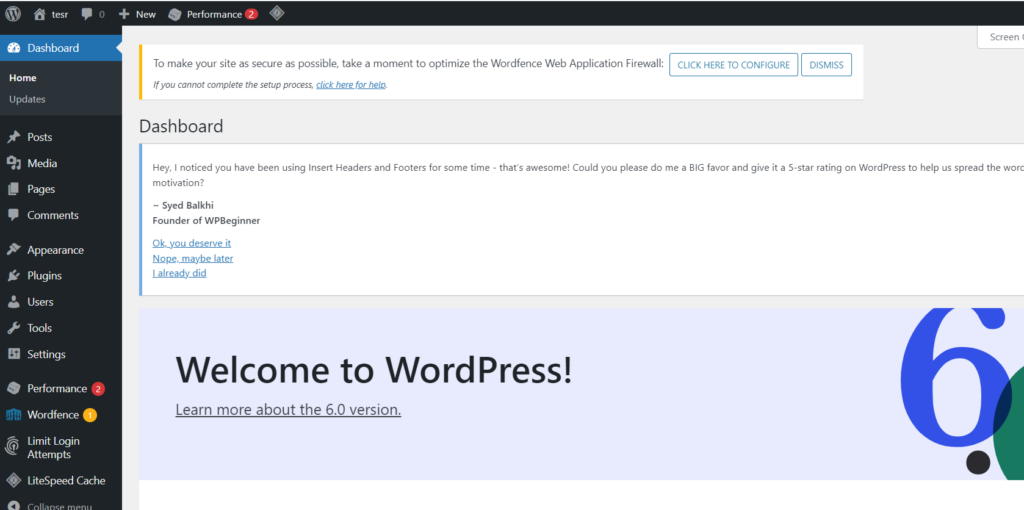 Click on Users from the left hand side menu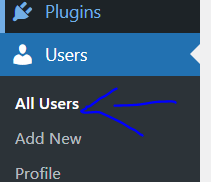 Click on the user for which you want to change the password for

Scroll down to Account Management and click on Set New Password to change password for that user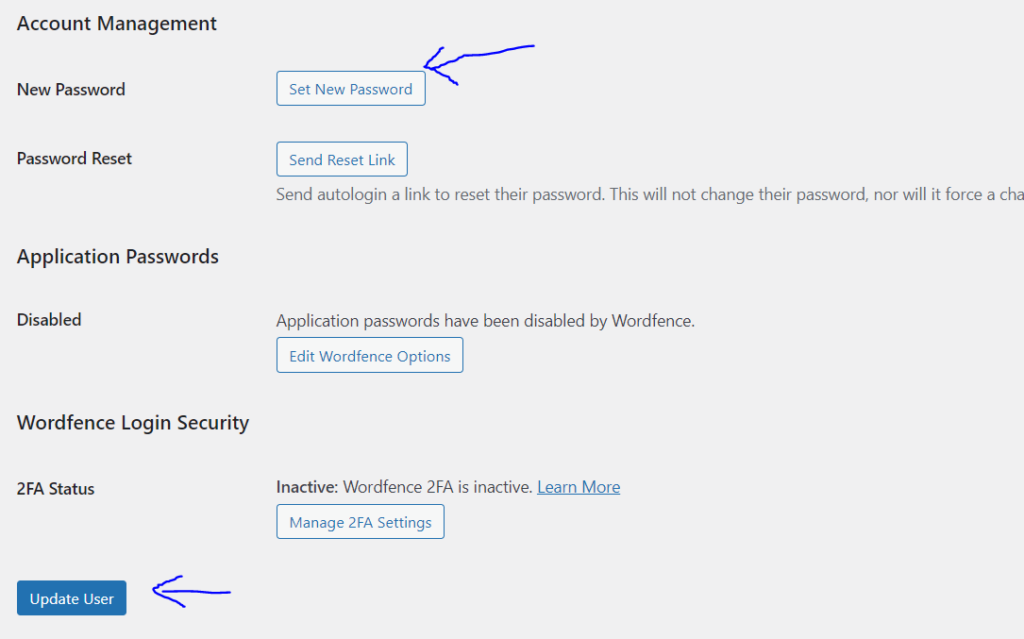 Do this for all the users to protect your WordPress site.
Update themes and plugins
The following step is to confirm that all of your plugins and themes are currently up-to-date.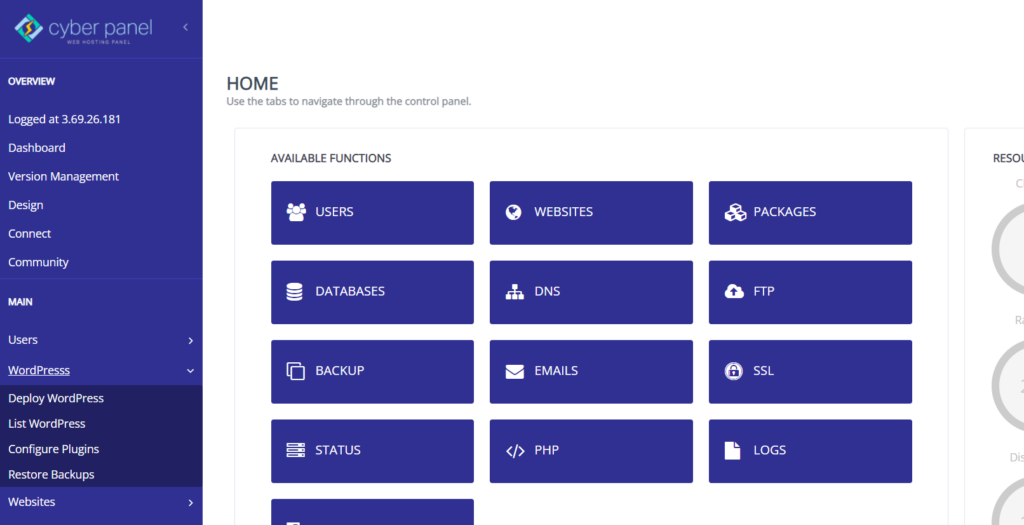 Click on WordPress -> List WordPress from the left hand side menu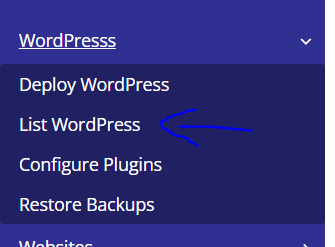 You will enter the List WordPress Websites. From here, Click on your WordPress Site Title.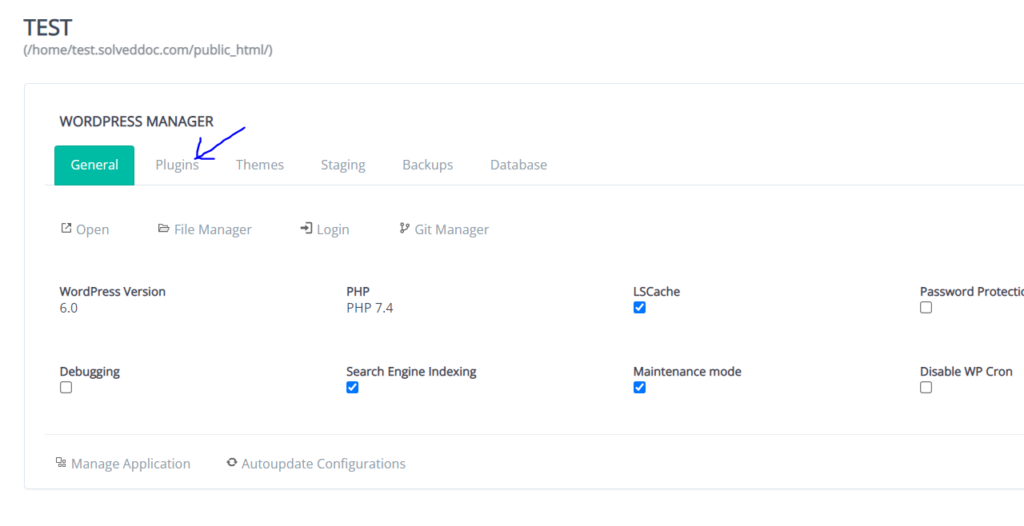 This will show you your plugins and which of them are installed, activated or needs updating by clicking on Update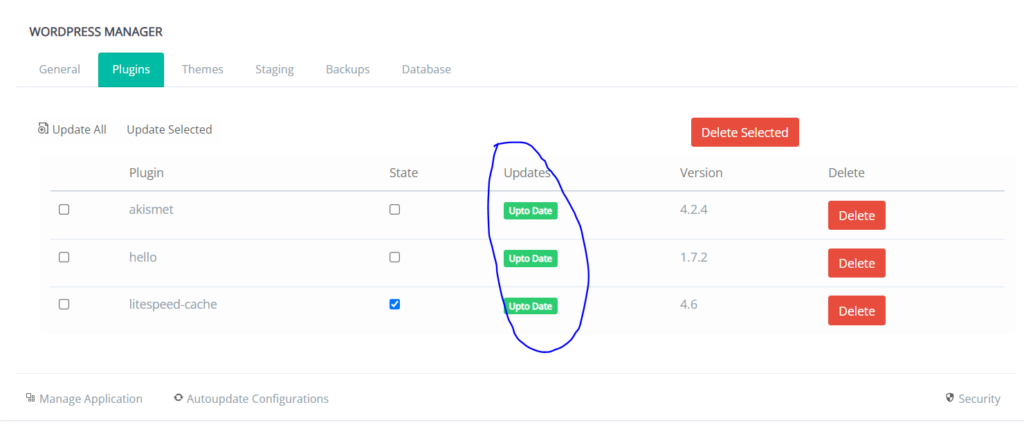 Now to update Themes, Click on Themes from the top bar

This will show you your Themes and which of them are installed, activated or needs updating. Update your Themes which needs updating by clicking on Update.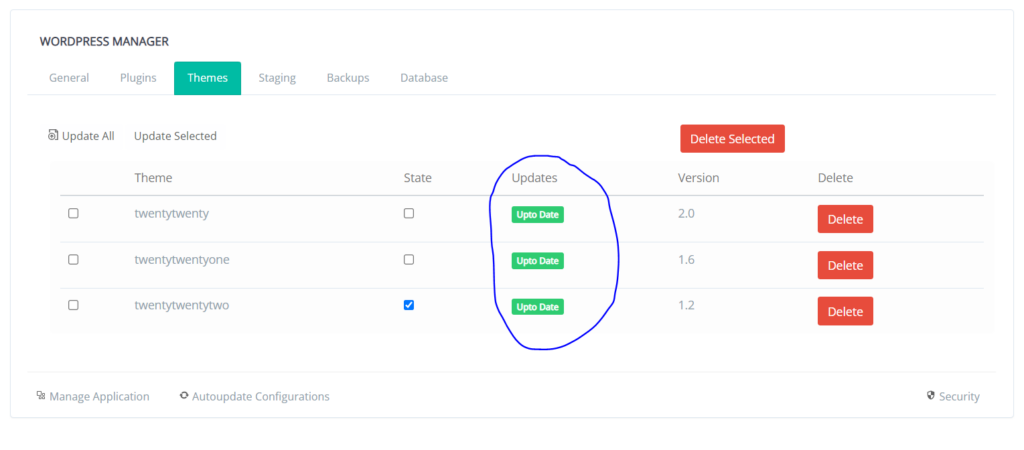 Take unrecognizable Users Off
It's time to delete any unknown admin accounts that have been added to your WordPress website. Check with any authorized administrators to ensure they haven't altered their account information and you are simply unfamiliar with them before taking this action.
Enter your WordPress Dashboard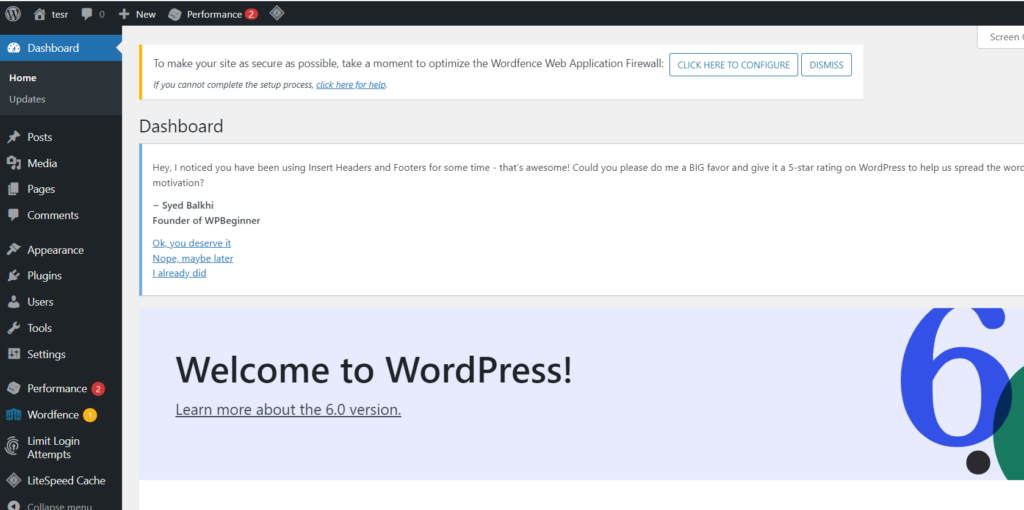 Click on Users from the left hand side menu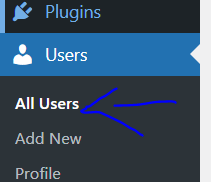 Move the cursor on the user you want to delete. Click on Delete from the options that appear.

Get rid of unwanted files
Installing a security plugin like WordFence will allow you to check your website and determine whether any files that shouldn't be there are currently present in your WordPress installation.
Reinstalling themes and plugins
You'll need to reinstall any plugins and themes that you haven't already updated if your site is still having issues. Reinstall them after deactivating and deleting them from your Themes and Plugins pages. Put your website in maintenance mode first, if you haven't previously.
If you are unsure of how safe a plugin or theme you purchased from a plugin or theme seller is, now is the moment to decide if you should keep using it. Do not reinstall any free themes or plugins that you got from sources other than the WordPress plugin or theme directory. Install it from the theme or plugin directory instead, or purchase the authentic version. If you can't pay it, swap it out for a free theme or plugin that accomplishes the same or comparable tasks from the theme or plugin directory.
Examine the support pages for almost all of your themes and plugins if this doesn't resolve the issue. You should uninstall that theme or plugin until the issue has been resolved because it's possible that additional users are having issues.
Install WordPress Core Once more
You'll need to reinstall WordPress itself if all else fails. You must install a fresh copy of WordPress in their place if the WordPress core files have been compromised.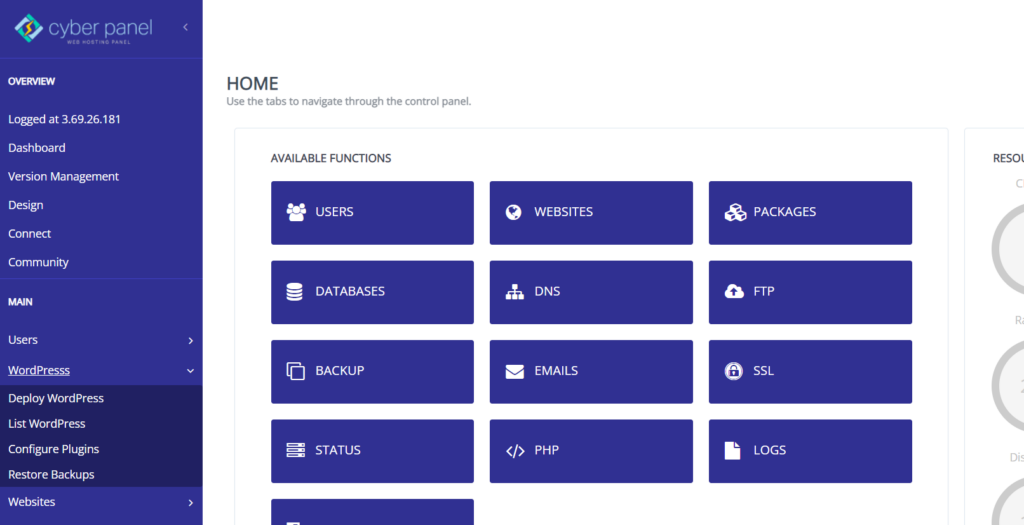 Click on WordPress -> List WordPress from the left hand side menu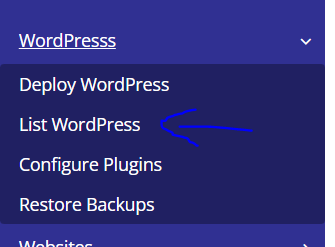 You will enter the List WordPress Websites. From here, Click on your WordPress Site Title.

This is your CyberPanel WordPress Manager. Click on Security.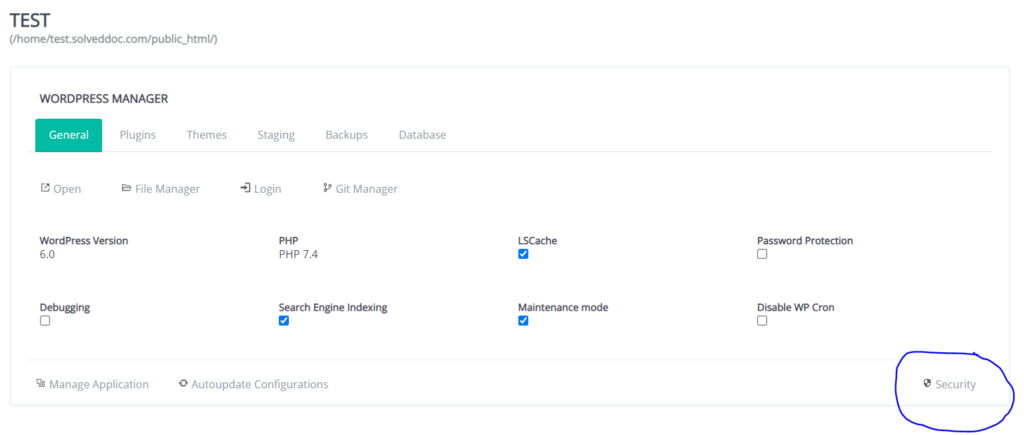 Click on Re-Install WP core. This will reinstall all the default WP core files in your WP site.

Purge Your Database
You must also clear out your database, which has been compromised. A clean database will have much less outdated data and look smaller, making your site speedier. It is a good idea to clear out your database. To check how you can repair a database in detail, check out our article.
To optimize the database, follow the following steps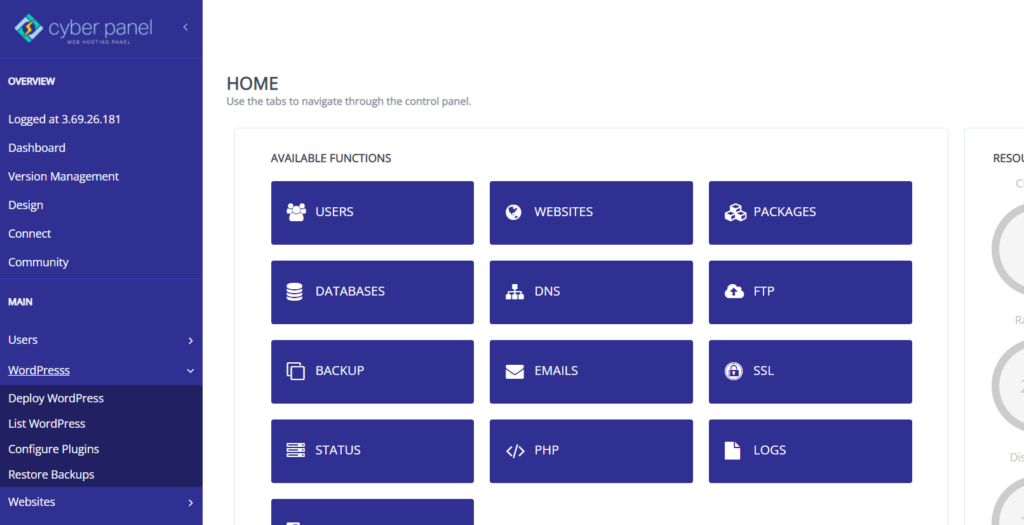 Click on WordPress -> List WordPress from the left hand side menu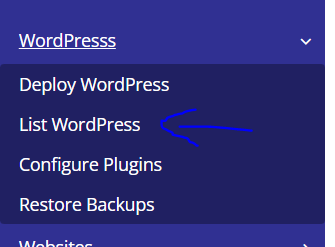 You will enter the List WordPress Websites. From here, Click on your WordPress Site Title.

This is your CyberPanel WordPress Manager. Click on Database from the top bar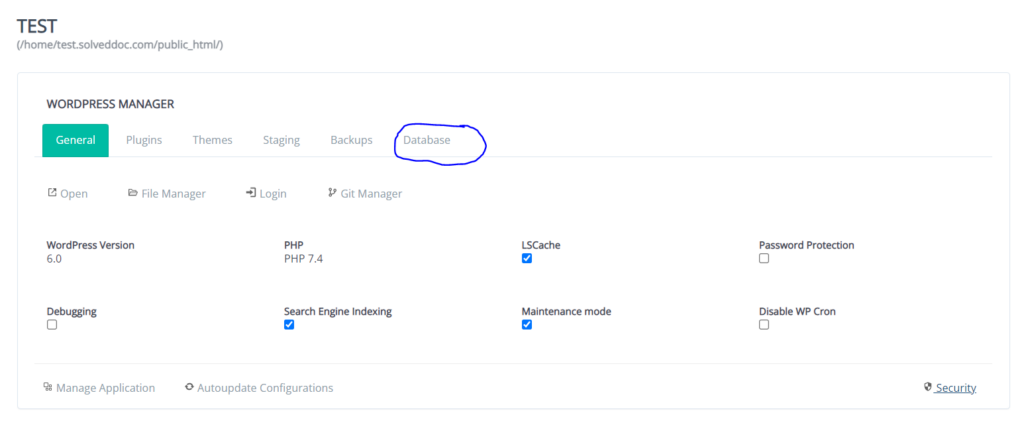 Click on your database name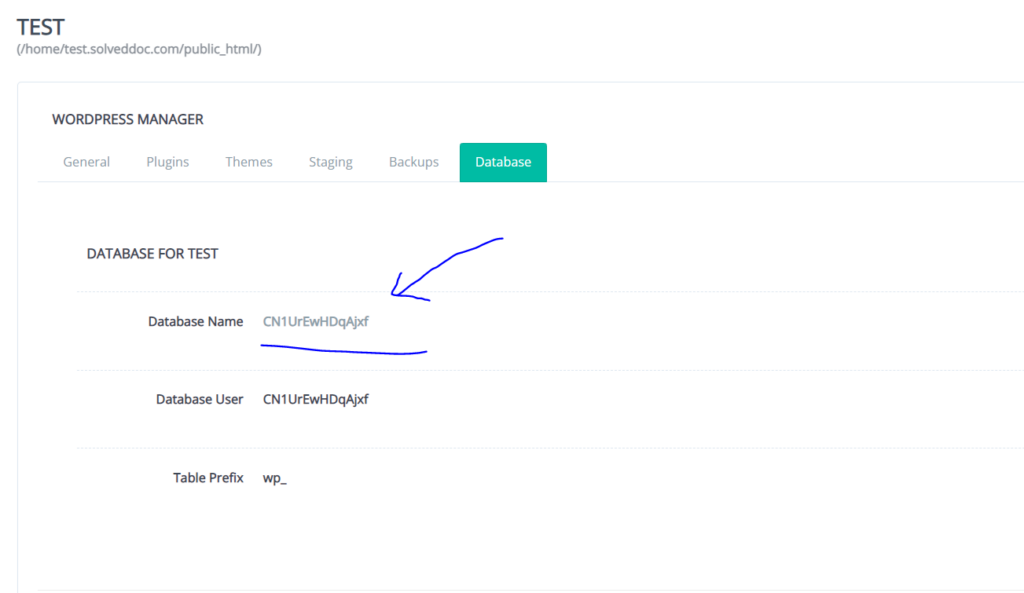 You will be redirected to the PHPMyAdmin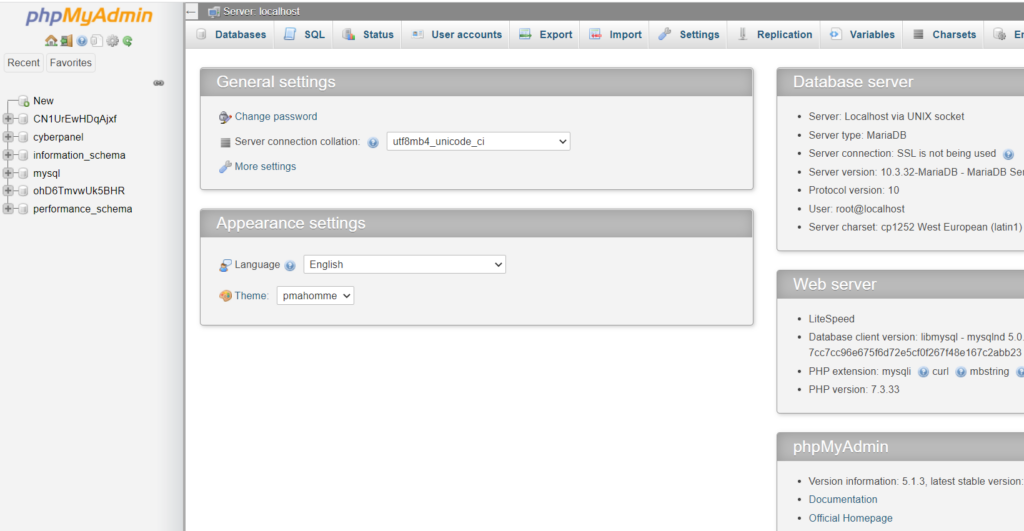 From the left hand side menu, Click on your database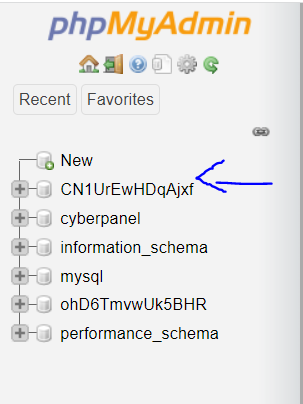 Check all tables in your database and select Optimize table from the With Selected drop down menu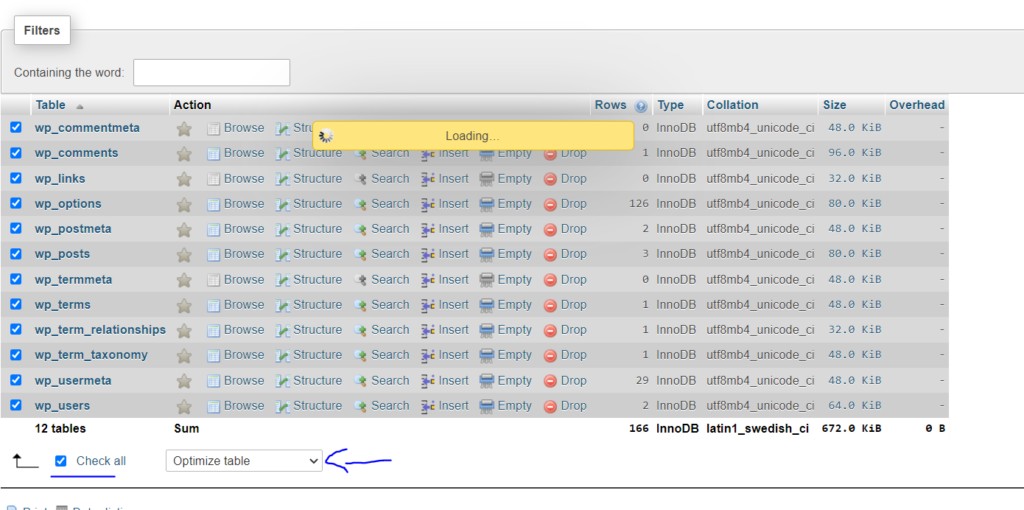 This will optimize all of your database tables and clean out your database.

How to prevent hacking on your WordPress site?
Your website is now a little bit more secure than it was before after you cleaned it up and reset your passwords.
However, there is more you can do to stop similar attacks from occurring in the future.
Make sure that every password is secure.
Make sure you use strong passwords and, if you haven't already, reset all of the passwords associated with your website, not just the WordPress admin password.
To make it more difficult for hackers to access your account, you may also install two-factor authentication to your website.
Update Your Website
It's crucial to maintain your website current. You should execute that update each time your theme, plugins, or WordPress itself are updated because it frequently includes security patches.
Delete Any Unsafe Plugins or Themes
In the future, before installing plugins for WordPress, make sure they have been tested with your version of the platform and that you are downloading them from a reliable source.
Never be lured to install free plugins and themes from third-party websites; always use the theme and plugin directories. Check the reputation of the plugin provider if you're purchasing premium themes or plugins, and seek recommendations.
Your WordPress installation should be cleaned.
Delete any installed but inactive plugins or themes that you may have. It's time to delete any files or outdated WordPress installations that are currently present in your hosting environment. Additionally, remove any databases you aren't utilizing.
Old, abandoned WordPress installations on your server will be especially vulnerable because it's doubtful that you'll keep them updated.
Don't use cheap hosting
You will share server space with a lot of other customers if you use cheap hosting. This will not only cause your site to load more slowly, but it will also raise the possibility that one of those other sites will compromise the server's security.
In the event that your website gets hacked, cheap hosting companies are less likely to assist you. You will receive a hack-free guarantee from a reputable hosting company like CyberPanel, and they will make every effort to keep your website safe.
Conclusion
It is uncomfortable to have your website hacked. Users can't access your site, which could have an effect on your company's bottom line. Your other activity will be impacted since you will need to act quickly.
A small amount of preventive is preferable to extensive treatment. This is 100% correct in regards to WordPress website hacking. Instead of crafty and skilled hackers, WordPress websites are infiltrated by bots that are merely created to exploit well-known and well-documented security holes. Insecure passwords, outdated themes, outdated plugins, and poor web hosting are just a few of these problems.