In today's competitive business landscape, small businesses are constantly seeking ways to stand out and provide exceptional customer service. Call center solutions tailored to the needs of small businesses have become increasingly popular for achieving this goal. In this article, we'll delve into the world of call center solutions for small businesses and explore how they can boost efficiency and customer satisfaction.
Why do Small Businesses need Call Center Solutions?
Call center solutions empower small businesses to deliver top-notch customer service, streamline operations, and adapt to changing needs, ultimately contributing to their growth and success in a competitive market.
Enhanced Customer Service
Small businesses often struggle to provide round-the-clock customer support due to limited resources. Call center solutions enable them to offer 24/7 support, addressing customer queries and issues promptly. This, in turn, enhances customer satisfaction and builds brand loyalty.
Improved Efficiency
Implementing a call center solution streamlines communication, allowing businesses to manage incoming and outgoing calls efficiently. Calls are routed to the right agents, reducing wait times and ensuring that customers receive quick and accurate responses.
Find Out What's New: Click to Our Latest Blog
Stay up-to-date and explore our most recent blog post to discover fresh insights, trends, and updates in your area of interest.
Scalability
Small businesses can easily scale their operations with call center solutions. As they grow, these systems can accommodate additional agents, ensuring a seamless transition from a small to a mid-sized enterprise.
Data Analysis
Modern call center solutions offer robust analytics tools. Small businesses can use these insights to better understand customer preferences, identify areas for improvement, and make data-driven decisions to enhance their service.
Enhance Your CyerPanel Experience Today!
Discover a world of enhanced features and show your support for our ongoing development with CyberPanel add-ons. Elevate your experience today!
Learn More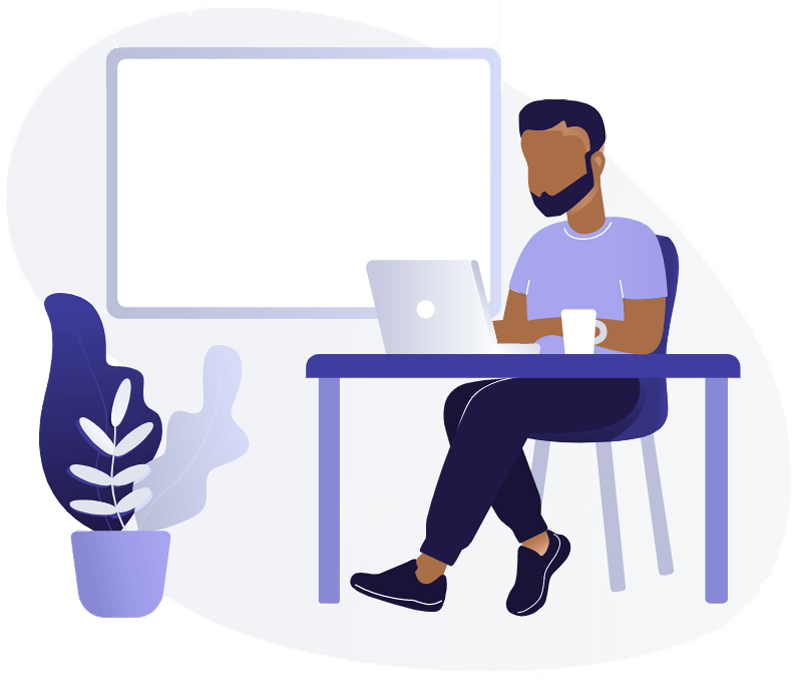 Key Features of Call Center Solutions for Small Businesses
Key features of call center solutions tailored for small businesses include:
Interactive Voice Response (IVR)
IVR systems help route calls to the right departments or agents, reducing manual intervention and ensuring efficient call handling. They can also provide automated responses to common customer inquiries, saving time and effort for both customers and agents.
Call Routing and Distribution
Efficient call routing ensures that calls are directed to the most suitable agent, reducing customer frustration and wait times. Small businesses can set up rules to distribute calls based on agent availability, skills, or other criteria.
Call Monitoring and Recording
Call center solutions allow small businesses to monitor calls for quality control and training purposes. They can also record conversations for compliance, dispute resolution, and ongoing training.
Multi-Channel Support
In addition to voice calls, many call center solutions support other communication channels such as email, live chat, and social media. This versatility ensures that businesses can engage with customers on their preferred platforms.
Analytics and Reporting
Comprehensive analytics tools provide valuable insights into call center performance. Small businesses can measure key metrics like call volume, response times, customer satisfaction, and agent performance, allowing for continuous improvement.
Top 10 Call Center Solutions for Small Businesses
Finding the best call center solution for your small business can be a crucial decision for improving customer service and operational efficiency. Here are the top 10 call center solutions for small businesses, each offering a unique set of features and benefits:
1. RingCentral

RingCentral is a cloud-based phone system with an extensive suite of communication and collaboration tools. It offers IVR, call routing, and multi-channel support. It's user-friendly and scalable, making it a great choice for small businesses.
Features
VoIP Calling
Video Conferencing
Team Messaging
File Sharing
Task Management
Cloud Storage
Contact Center
Mobile Access
Call Management
Security Compliance
API Integration
Analytics Reporting
2. Freshdesk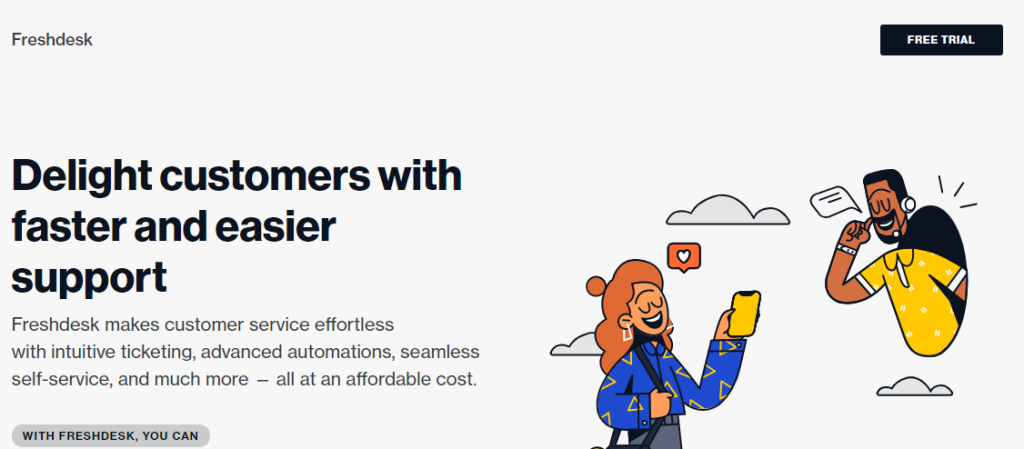 Freshdesk provides a multi-channel helpdesk and customer support software that's affordable and user-friendly. It's an ideal solution for small businesses looking to streamline customer support and manage interactions efficiently.
Features
Ticket Management
Multichannel Support
Knowledge Base
Self Service
Automation Rules
SLA Management
Reporting Analytics
Omnichannel Routing
Team Collaboration
Email Integration
Customization Options
Mobile Accessibility
3. Zendesk Talk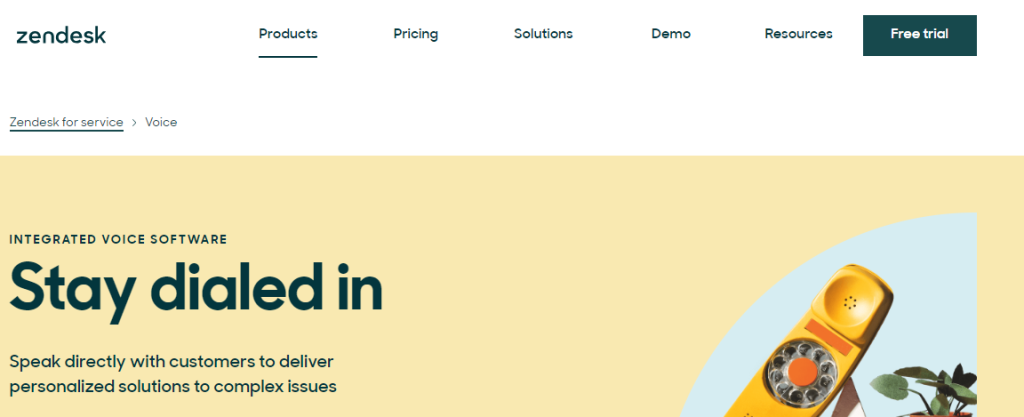 Zendesk Talk is a cloud-based call center solution that seamlessly integrates with Zendesk's customer support platform. It offers IVR, call recording, and analytics, making it a great choice for small businesses focused on enhancing customer service.
Features
Chat Support
Email Integration
Customization Options
Mobile Accessibility
Customer Feedback
Social Media
Helpdesk Automation
Community Forums
App Integrations
Customer Surveys
Self-Service Portal
Ticketing System
Team Collaboration
4. Talkdesk


Talkdesk is a cloud-based contact center software designed for small businesses. It provides advanced call routing, analytics, and multi-channel support to help deliver exceptional customer experiences.
Features
Call Routing
Omnichannel Support
Reporting Analytics
Automation Rules
Real-time Monitoring
IVR System
CRM Integration
Voicemail Transcription
Call Recording
Quality Assurance
Analytics Dashboard
Call Conferencing
5. 8x8


8x8 is a cloud-based communication platform that offers a wide range of features, including IVR, call routing, and video conferencing. It's suitable for small businesses seeking comprehensive communication solutions.
Features
Video Conferencing
Team Collaboration
Cloud Communication
Chat Integration
Mobile App
Screen Sharing
Call Recording
File Sharing
Virtual Meetings
Messaging Platform
6. Five9


Five9 is a cloud contact center platform that offers various tools for small businesses, such as call routing, multi-channel support, and workforce management. It's designed to improve customer service and agent productivity.
Features
Call Routing
IVR Automation
Predictive Dialer
Reporting Analytics
Agent Scripting
Omnichannel Support
CRM Integration
Real-time Monitoring
Workforce Management
Customer Surveys
7. Aircall


Aircall is a cloud-based call center software that focuses on improving phone interactions. It offers call routing, analytics, and integrations with various business tools, making it a good fit for small businesses with a strong focus on phone support.
Features
Call Routing
Team Collaboration
CRM Integration
Call Analytics
Voicemail Transcription
Business Hours
Call Whispering
Call Recording
Analytics Dashboard
Mobile App
8. Nextiva


Nextiva provides a range of communication solutions, including a cloud-based phone system. It's known for its reliability and scalability, making it suitable for small businesses looking for a comprehensive communication platform.
Features
Business VoIP
Unified Communications
Voicemail Transcription
Video Conferencing
Auto Attendant
Call Analytics
Cloud PBX
Team Messaging
Virtual Fax
Mobile App
9. Evolve IP


Evolve IP offers a cloud-based call center and unified communication solutions. It provides features like call routing, IVR, and analytics, making it an excellent choice for small businesses seeking a unified communications platform.
Features
Cloud Services
Unified Communications
Business Continuity
Call Center
Collaboration Tools
Disaster Recovery
Hosted PBX
Contact Center
Security Solutions
Cloud Computing
10. Vonage Business


Vonage Business is a cloud-based communication platform that includes a feature-rich phone system. It offers call routing, analytics, and integrations to enhance small businesses' communication capabilities.
Features
VoIP Calling
Mobile App
Video Conferencing
Call Recording
Virtual Numbers
SMS Messaging
Conference Calls
Auto Attendant
Analytics Dashboard
Integration Options
FAQs - Call Center Solutions
Why do small businesses need a call center solution?
Small businesses benefit from call center solutions as they help improve customer service, enhance efficiency, and manage communications effectively. These solutions enable businesses to handle customer inquiries, resolve issues, and maintain customer satisfaction.
Are call center solutions expensive for small businesses?
Call center solutions come in various pricing models, and many are cost-effective especially cloud-based options. The scalability of these solutions allows small businesses to start small and expand as needed, keeping costs manageable.
How can call center solutions help with remote or distributed teams?
Call center solutions often include features like softphone applications and mobile access, making it easy for remote or distributed teams to access and manage customer interactions from anywhere with an internet connection.
What security measures are in place to protect customer data in call center solutions?
Call center solutions often include security features like encryption, access controls, and compliance with data protection regulations to safeguard customer data and ensure privacy.
Conclusion
In conclusion, call center solutions for small businesses offer a powerful tool for enhancing customer service, increasing efficiency, and improving overall business operations. These solutions come in various forms, from cloud-based services to software applications, making them accessible and scalable for businesses of all sizes. By implementing call center solutions, small businesses can effectively manage customer interactions, streamline communication processes, and gain valuable insights through data analytics.
Related Content: DirectAdmin Alternative for Efficient Server Management