Google Cloud Platform (GCP) is Google's avant-garde cloud computing service, delivering exceptional Google Cloud Server Hosting. GCP embodies the surge in demand for Google's internal end-user product framework, evolving cloud computing technology significantly.
It offers a comprehensive suite, encompassing storage, computing, and networking, democratizing cutting-edge capabilities for businesses. GCP optimizes operations, allowing teams to focus on core products while its global data center network ensures reliability, low latency, and security. GCP stands as a transformative tool, merging Google's internal expertise with external scalability. In an evolving digital landscape, it empowers businesses to thrive with unrivaled flexibility and innovation.
What is Cloud Computing?
Anything that includes offering hosted services via the Internet is referred to as cloud computing. Infrastructure as a service (IaaS), platform as a service (PaaS), and software as a service (SaaS) are the three basic forms of cloud computing services (SaaS).
It is possible to have a private or public cloud. Everyone on the internet can buy services from a public cloud. A private cloud is a closed network or data center that provides hosted services to a small group of people with specific access and permissions. The purpose of cloud computing, whether private or public, is to give quick, scalable access to computer resources and IT services.
Find Out What's New: Click to Our Latest Blog
Stay up-to-date and explore our most recent blog post to discover fresh insights, trends, and updates in your area of interest.
Cloud computing allows client devices to be connected to data and cloud apps from faraway physical servers, databases, and computers via the Internet.
The front end, which consists of the connecting client device, browser, network, and cloud software applications, and the back end, which comprises databases, servers, and computers, are linked by an internet network connection. The back end serves as a reservoir, storing data that the front end can access.
Enhance Your CyerPanel Experience Today!
Discover a world of enhanced features and show your support for our ongoing development with CyberPanel add-ons. Elevate your experience today!
Learn More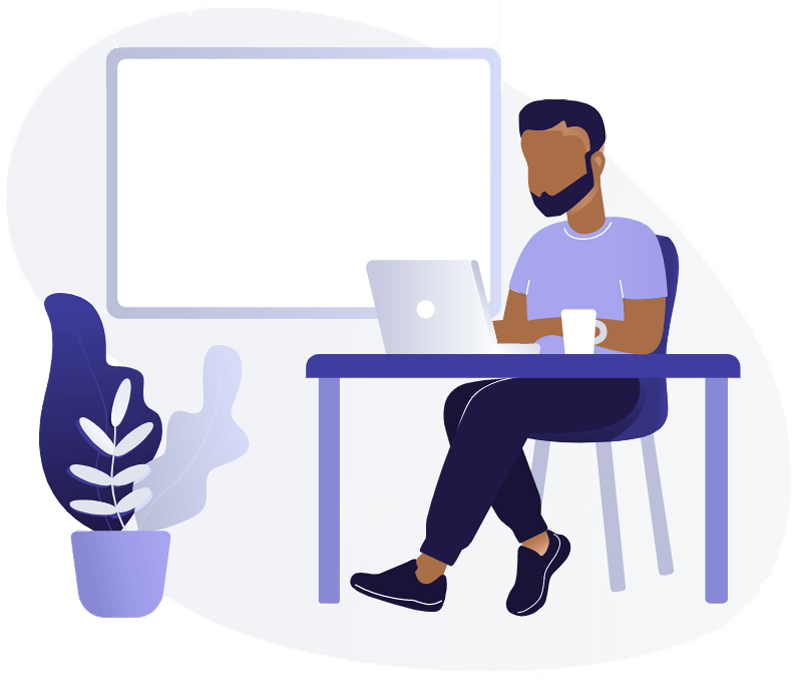 A central server controls communication between the front and back ends. Protocols are used by the central server to simplify data sharing. To manage connectivity between multiple client devices and cloud servers, the central server employs both software and middleware. In most cases, each application or task has its own dedicated server.
Virtualization and automated technologies are used widely in cloud computing. Virtualization makes it possible to abstract and deliver services and underlying cloud infrastructure into logical entities that consumers may request and use. Users can provision resources, connect services, and deploy workloads without the need for direct interaction from the cloud provider's IT team thanks to automation and orchestration features.
What is Google Cloud Platform?
The Google Cloud Platform (GCP) is the name given to Google's public cloud computing services. It competes with Amazon Web Services (AWS) and Microsoft Azure in terms of performance.
For WordPress websites, Google Cloud hosting provides a highly configurable and performance-based solution. You'll have complete control over the resources and Virtual Machines (VMs) your website can access, as well as access to Google Cloud's enormous network and advanced security features.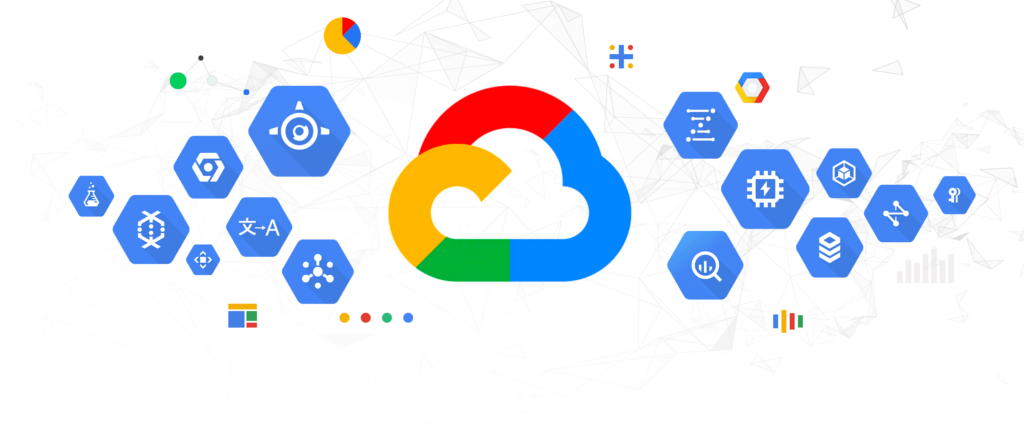 GCP is not a web hosting service in and of itself. The platform serves as a host for the following services:
Cloud Computing
Storage
Artificial intelligence
Networking
Databases
Analytics
Application development
Users can rent access to Google's top-of-the-line infrastructure and services. Users are thus not just paying for access to Google's network, but also for the built-in performance and security advantages.
What is Google Cloud Hosting
A Google Cloud Server is a virtual server that can be accessed remotely from a Cloud Service Provider, and to do so, you'll need cloud hosting infrastructure. It's hosted on top of it and served on demand.
Google Cloud Hosting is a type of cloud hosting supplied by Google. With a free trial package, Google offers Cloud Hosting for the first 12 months free. Following that, you can choose from one of the Google Cloud Hosting Pricing plans. You can also look at Google Cloud Platform pricing plans to make use of Google's many services.
Advantages of Google Cloud Server Hosting
More Pricing Plans Are Available
Google Cloud Hosting Plans are less expensive than other Platforms' Hosting Services in terms of cost. In comparison to its competitors, it offers more affordable price plans. The Google Cloud Hosting service offers per-second charging. Users only need to sign up with all the necessary information to use this service. He only needs a bank account or credit number. The key benefit of Google Cloud Hosting is that if a user has subscribed to any of the price plans, he or she is not bound by his or her membership. At any time, you can cancel your membership. You can change your subscription to a different plan if you want better deals.
Better Execution
Google has improved the performance of its Google Cloud Hosting service for businesses. An individual can use a remote connection to access the data from any location. It has a large infrastructure, allowing it to easily execute a variety of sophisticated activities on its network. At any given time, Google Cloud Machines can manage an arbitrary number of visitors. If you decide to switch to Google Cloud Hosting, you will notice a reduction in the time it takes for your website to load.
The Advantages of Live Migration
"Live Migration" is one of the most appealing features of Google Cloud Hosting. It's also the most significant benefit, as Amazon Web Services and Microsoft Azure don't offer it. It comprises solely of virtual machine migration. Google Cloud Hosting helps consumers to transfer their workstations because of its enormous network.
Personal Network
The private network allows users to maximize their time and efficiency. A private network helps Google gives each customer their own network, giving them more control and flexibility over the network. The Google Cloud Hosting service relies on a private network. Fiber-optic cables outperform all other types of cables in terms of efficiency. Google's network is made up of fiber-optic cables. The fiber-optic network can handle any quantity of traffic.
A Commitment to Continuous Improvement
Google Cloud Hosting, as we all know, is a part of the Google Cloud Platform. It also has a big infrastructure that is open to the public. Google is likewise aggressively developing its infrastructure to meet the needs of its customers. The Google Infrastructure will be expanded to other places in the near future. This will aid in the development of a powerful Google network. Google is now present in 17 locations. Hong Kong and Zurich, Switzerland will be the new Google Cloud Platform regions in 2018 and 2019, respectively.
Security and Control
Google does have its own security mechanism in place, which protects Gmail, YouTube, and other Google goods. Google has hired a big number of Security Professionals to assist with the protection of data stored on servers. On Cloud Platform Services, all data is encrypted. Google has a powerful ISP network that aids in the security of their network. Google is also investing in process-based security for its network or information.
Multiple Backups
If anything is no longer needed, it can be reduced through redundancy. Google has its own redundant backups built in. If a component fails to work in some way, Google will build a backup. This indicates that you are storing your data in many areas (minimum two locations). Users will not lose their data if something goes wrong. Data integrity, reliability, and durability are all enhanced by redundancy.
Basic Google Cloud services
Google Compute Engine
Compute Engine (GCE) is Google's entry-level service that competes with Amazon's entry-level, premier service: hosting virtual machines. Workloads (applications and services) in data centers are typically run on software-based platforms which may be shifted from one physical computer to another. In fact, a physical server can host more than one of these VMs, increasing efficiency. The virtual machine (VM) concept was established to allow data center mobility; cloud services like GCE use that same format, add a self-provisioning deployment mechanism, and charge consumers for the resources these VMs consume.
Google Cloud Storage
GCP Cloud Storage (GCS) is an object storage solution, which means that its records retain both the identity and structure of any class of data that is delivered to it. Object storage, unlike a standard storage volume's file system, which renders each file or document as a string of digits whose placement is registered in a file allocation table, is an all-purpose block that's leased to customers. It may store fully organized databases, raw streaming video, or machine-learning model matrices.
Nearline
Nearline is a technique to use Google Cloud Storage for backup and archive data that isn't necessarily considered a "database" in the traditional sense. The information saved here is only intended to be accessible once a month by a single user. Google refers to this technique as "cold storage," and it has adjusted its pricing plan to make Nearline more cost-competitive for low-volume uses like system backups.
Google Cloud Hosting Price
The majority of WordPress hosting companies are charging a set monthly or annual fee. Google Cloud, on the other hand, will bill you for the resources you use. Your data will be stored, you will have access to a Virtual Machine (VM), and you will have access to several server locations.
The "Google Cloud pricing calculator" is a good place to start. It can calculate the price based on your machine and resource usage.
You can also upgrade your Google Cloud Networking membership by purchasing extra Google Cloud Networking services. These add-ons can improve the speed and security of your site, allowing you to give the greatest possible user experience to your users.
When you sign up for Google Cloud's hosting services, you'll receive a $300 free credit. To get this bonus, simply confirm your debit or credit card information and utilize the credit within just the first 90 days.
How to Host Your Website on Google Cloud Server Hosting using CyberPanel
Creating a WordPress on CyberPanel is super easy. And now using CyberPanel with Google Cloud Hosting and then deploying a WordPress site on it is just as easy. Let us see how you can create a VM on Google Cloud Hosting, Installing CyberPanel and Deploy a WordPress site.
Step 1: Open Port 8090 on Firewall
I assume that you already have an account on Google Cloud. The first thing we need to do is to open port 8090 on firewall because this port is required to access CyberPanel.
Go to cloud.google.com
Click on Console at the upper right corner

Search for "Firewall" in the provided search bar

Click on Create Firewall Rule at the top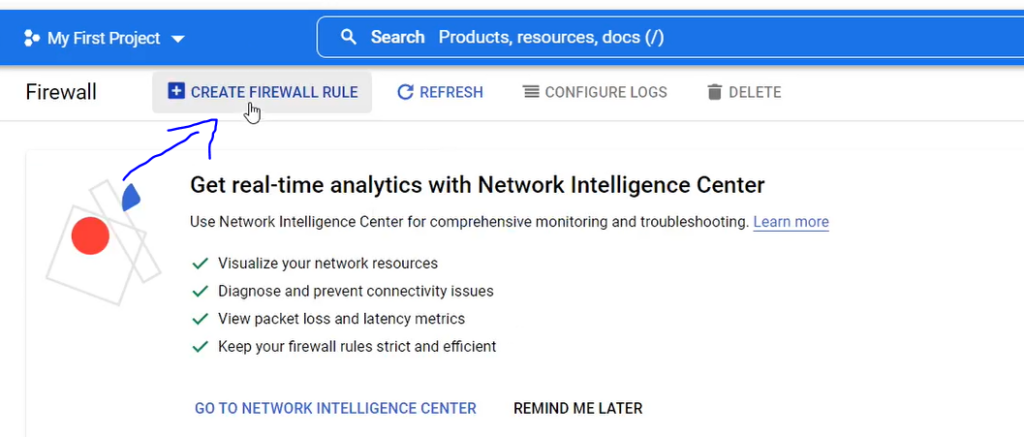 Name your firewall

Source = 0.0.0.0/0 (This way every IP will have access to port 8090, you can also further restrict by adding your IP here)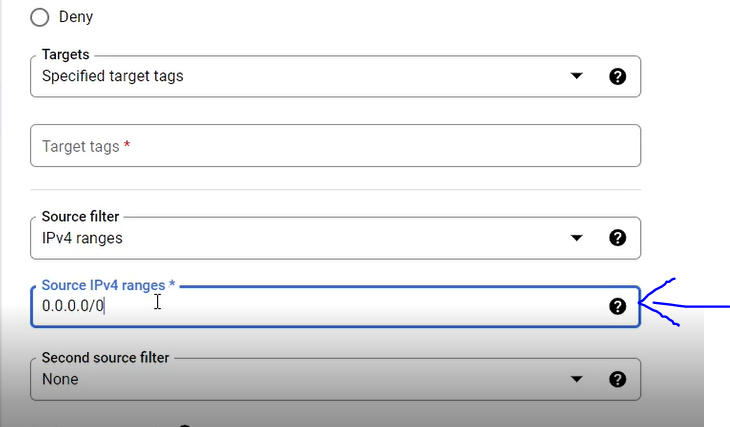 Port and protocol -> Specified protocols and ports
TCP: 8090

Target -> specific
Tags -> (Name your tag since this will make your instance a part of the network)

Click Create

Step 2: Create VM Instance on Google Cloud
Click on the option from the top left corner to open up the navigation menu
Click on Compute Engine -> VM instances from the left-hand side menu that appears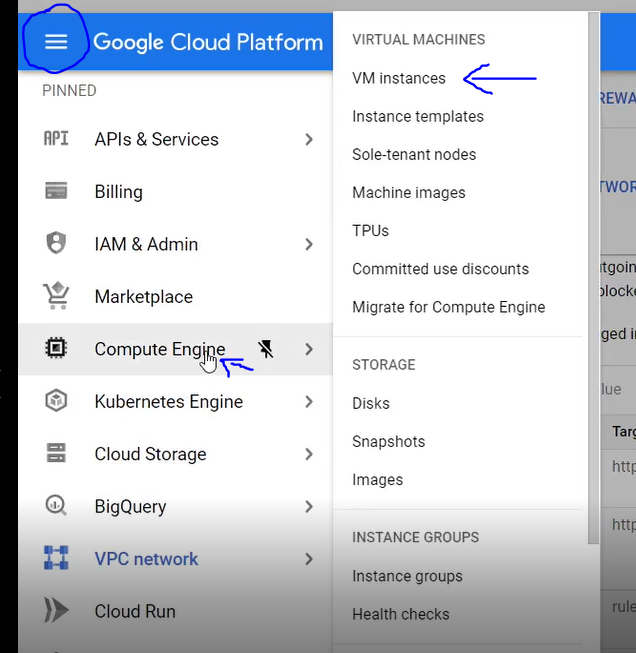 Click on Create Instance

Name your instance
Select any location, zone, and Machine type that you want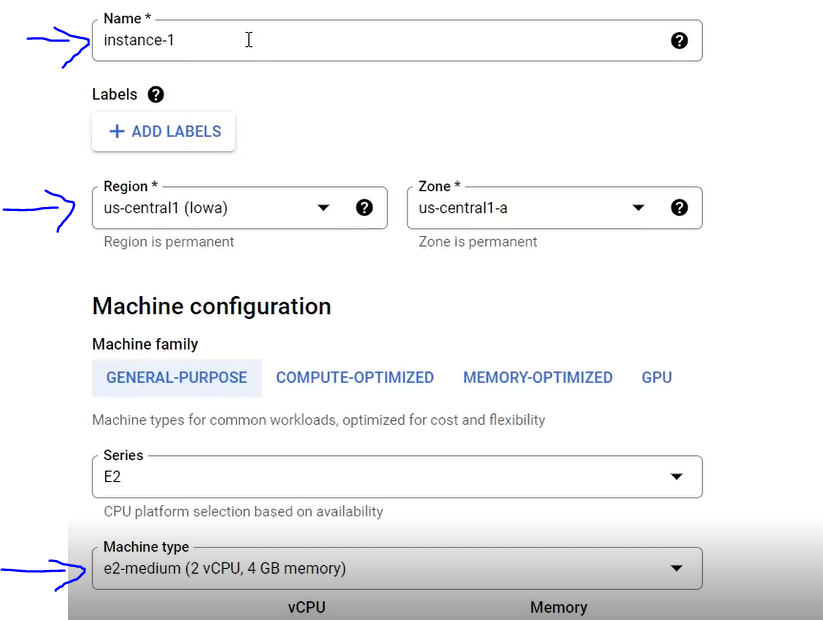 In the Firewall, section make sure you Allow HTTP and HTTPS

In the Boot disk section, click on change

Change the OS to Ubuntu and version to 20.04. Also make sure the size is greater than 20 and click Select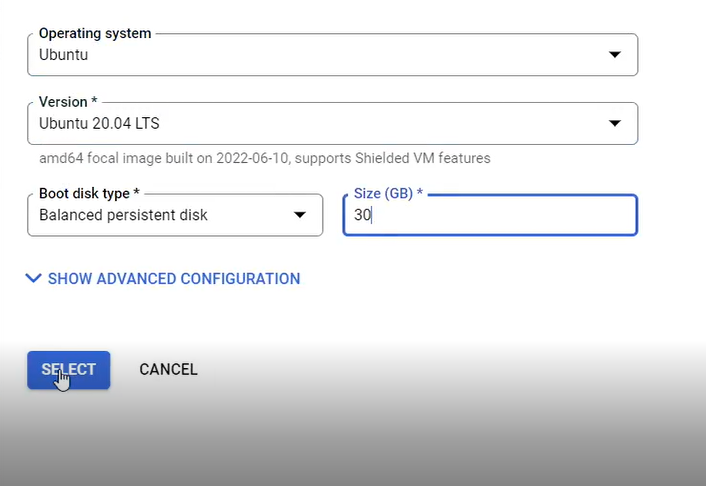 In Networking -> Network tags -> (Enter the tag that you have created while creating a firewall rule)

Click Create to create the Instance

Step 3: Install CyberPanel
When your status shows running, click on "SSH", so that you can install CyberPanel using SSH.

Enter the code to install CyberPanel
sudo su -
sh <(curl https://cyberpanel.net/install.sh || wget -O - https://cyberpanel.net/install.sh)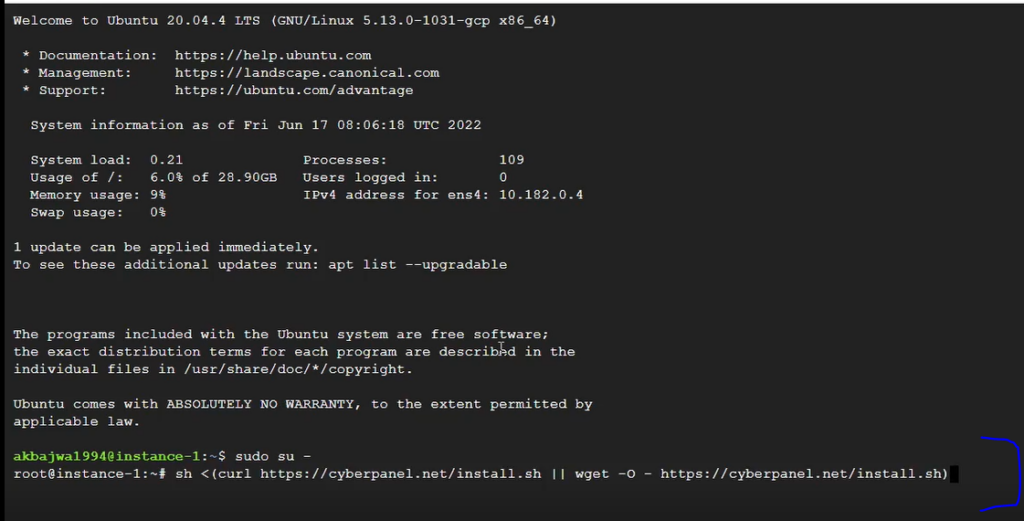 Once CyberPanel is installed, you will be provided with login details that you can use to log into your CyberPanel dashboard.
Step 4: Deploy WordPress on Google Cloud Server Hosting
Login to your CyberPanel Dashboard to deploy the WordPress site (login details are provided at the end of the installation process that we did above.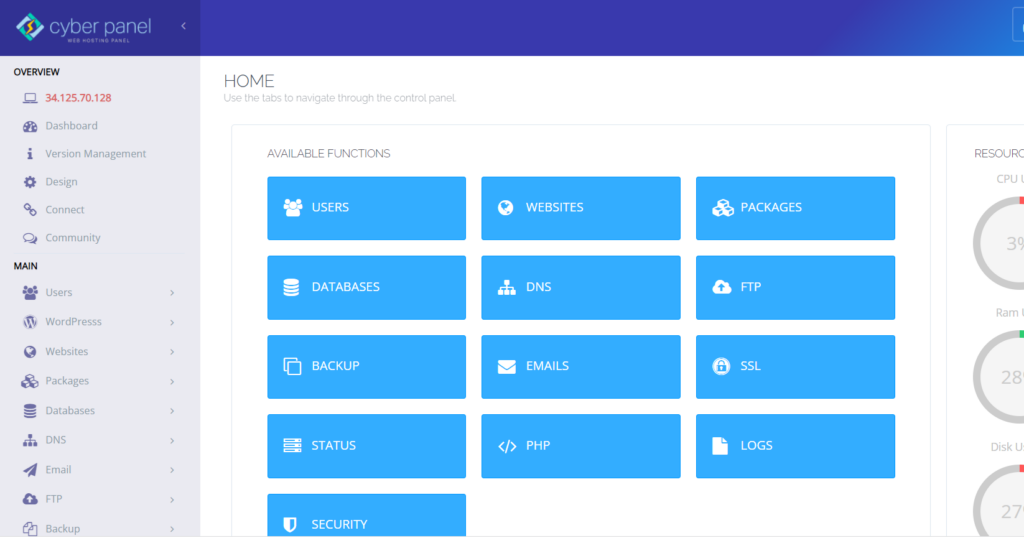 Click on WordPress from the left-hand side menu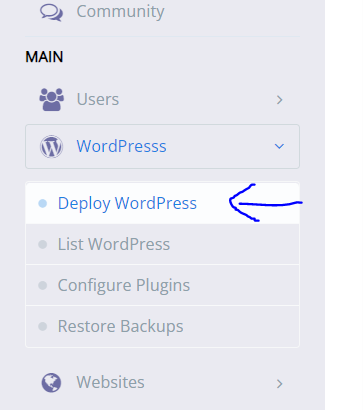 Enter the required information and click Create Website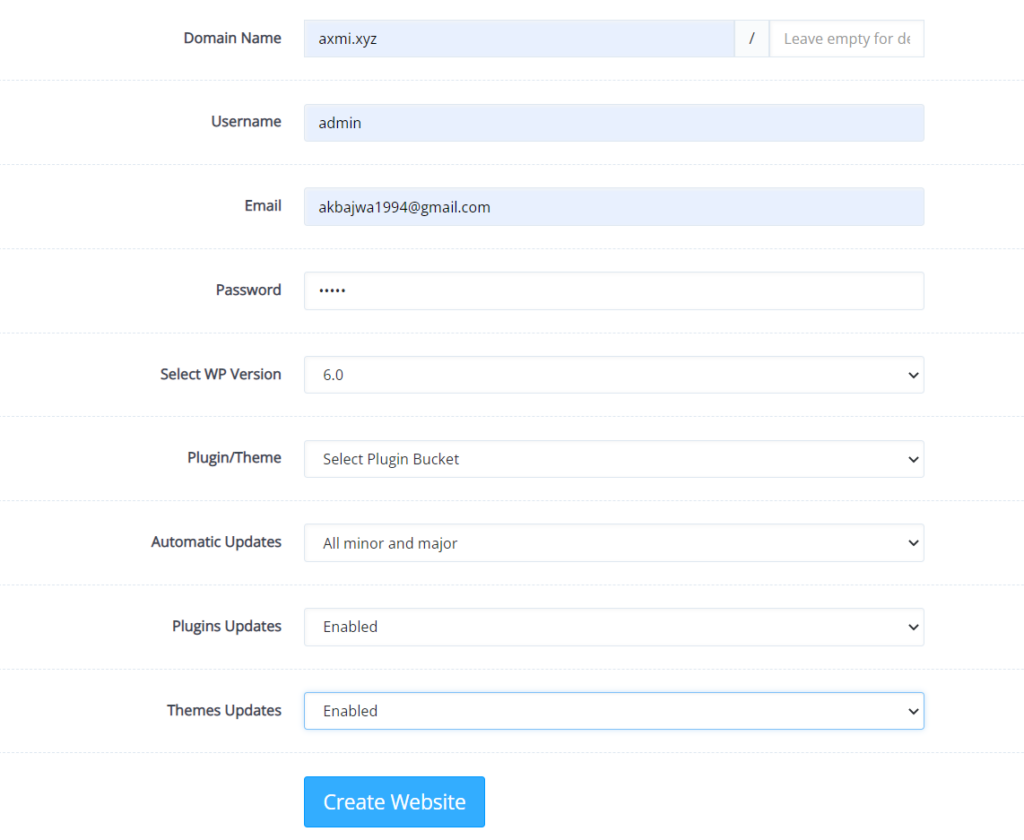 Your WordPress site is ready to use.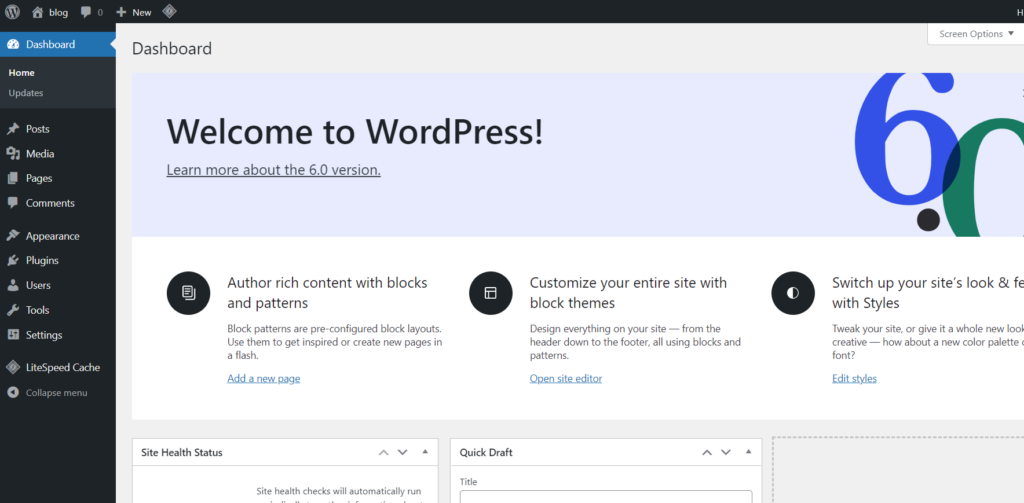 How to Create VPS on Google Cloud
To create a Virtual Private Server (VPS) on Google Cloud, follow these steps:
Sign In: Log in to your Google Cloud account.
Navigate to Compute Engine: Go to the Google Cloud Console, and select "Compute Engine" from the main menu.
Create an Instance: Click "Create Instance". Fill in details like name, region, machine type, and boot disk. Choose an operating system image.
Configure Networking: Set up networking options, like IP addresses and firewall rules, to control access.
Add SSH Keys: Under "SSH Keys", you can add your public SSH key for secure access.
Advanced Configuration: Customize options like startup scripts, metadata, and GPUs if needed.
Review and Create: Double-check your settings and hit "Create" to launch your VPS.
You now have a VPS on Google Cloud, ready to use for your projects.
Is Google VPS free?
Google Cloud Platform offers a range of pricing options for Virtual Private Servers (VPS). While it provides a "Free Tier" with limited resources that can be used for small projects, it's essential to note that this isn't a dedicated VPS; it's more like a trial to explore GCP's services.
For a dedicated VPS with sufficient resources for production use, costs are incurred based on factors like instance type, storage, and data transfer. Always review GCP's pricing details to understand the costs associated with your chosen VPS configuration. It's recommended to monitor usage and set up budget alerts to manage expenses effectively.
FAQS- Google Cloud Server Hosting
What is Google Cloud Server Hosting?
Google Cloud Server Hosting refers to the utilization of Google Cloud Platform (GCP) to host and manage websites, applications, and services. It offers a robust infrastructure and tools for businesses seeking reliable and scalable hosting solutions.
How does Google Cloud Server Hosting work?
Google Cloud Server Hosting operates by deploying virtual machines (VMs) on Google's global network of data centers. These VMs serve as servers for your applications, providing computing power, storage, and networking capabilities.
What are the benefits of using Google Cloud Server Hosting?
Benefits include high performance, global scalability, data redundancy, advanced security features, and a pay-as-you-go pricing model. It enables businesses to focus on their core operations without worrying about infrastructure management.
Is Google Cloud Server Hosting suitable for small businesses?
Absolutely. Google Cloud offers various plans, including a Free Tier, which provides a great starting point for small businesses to explore hosting options. As your business grows, you can seamlessly scale up your resources.
How secure is Google Cloud Server Hosting?
Security is a top priority. Google Cloud implements advanced security measures, including encryption at rest and in transit, DDoS protection, identity and access management, and compliance with industry standards.
Can I migrate my existing website to Google Cloud Server Hosting?
Yes, you can migrate your website to Google Cloud. GCP provides tools and services to assist in seamless migration, ensuring minimal downtime during the transition.
What level of technical expertise is required to manage Google Cloud Server Hosting?
Google Cloud offers a user-friendly interface and management console. Basic technical knowledge is helpful, but even those without extensive experience can leverage GCP's documentation and support resources.
Conclusion
For WordPress websites, Google Cloud server hosting provides a highly configurable and performance-based solution. You'll have complete control over the resources and Virtual Machines (VMs) your site can access, as well as access to Google Cloud's enormous network and advanced security features.
In general, Google Cloud hosting isn't the most user-friendly solution for newcomers. Unless you're willing to pay for premium help, you'll need an intermediate degree of technical understanding. However, if speed is your top requirement, you might want to explore this hosting option.
If you want to explore our other resources check out Dedicated Server Vs Shared Hosting and Multiple Cloud Service Providers