While Google Sites has been a popular choice for those seeking a user-friendly platform to build webpages, there is a growing demand for alternatives that offer more advanced features, greater customization options, and enhanced flexibility. Whether you're looking to establish an online portfolio, collaborate on a project, or launch an e-commerce site, there exists a diverse array of Google Sites alternatives that cater to a wide range of needs and preferences.
In this exploration, we'll delve into some compelling Google Sites Alternative, each offering its unique set of capabilities to empower users in their web development endeavors.
1. Wix

Wix is a prominent and widely recognized website builder that has rapidly gained popularity for its user-friendly approach to web design. Founded in 2006, Wix has evolved into a versatile platform that empowers individuals and businesses of all sizes to create stunning websites without the need for extensive coding knowledge.
One of the key strengths of Wix is its extensive library of pre-designed templates, covering a wide spectrum of industries and styles. These templates serve as an excellent starting point for users, allowing them to choose a design that aligns with their vision and brand identity.
Find Out What's New: Click to Our Latest Blog
Stay up-to-date and explore our most recent blog post to discover fresh insights, trends, and updates in your area of interest.
Features
Drag-and-Drop
Templates Library
Mobile Friendly
App Marketplace
Wix ADI
E-commerce
Blogging Tools
SEO Optimization
Custom Domains
Analytics Insights
Media Galleries
User Accounts
SSL Security
Multilingual Support
Velo Integration
Pricing
You can find the pricing details here.
2. Squarespace

Squarespace is a popular and highly regarded website builder known for its commitment to delivering aesthetically pleasing and professional websites with ease. Launched in 2003, Squarespace has evolved into a comprehensive platform that caters to creatives, entrepreneurs, and businesses alike, providing them with the tools and features needed to craft stunning online presences.
Enhance Your CyerPanel Experience Today!
Discover a world of enhanced features and show your support for our ongoing development with CyberPanel add-ons. Elevate your experience today!
Learn More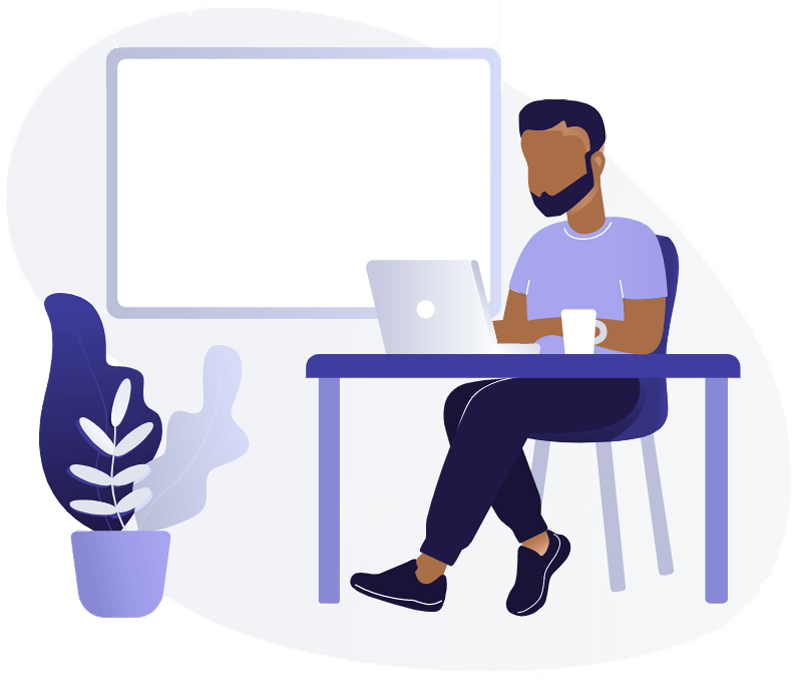 Squarespace sets itself apart with its stunning collection of professionally designed templates. These templates cover a wide range of styles and industries, and they are known for their modern, clean, and elegant aesthetics.
Features
Elegant Templates
Mobile-Responsive
Content Management
Robust E-commerce
Powerful Blogging
Built-in Analytics
Custom Domains
SEO Tools
Strong Security
Integrated Services
Excellent Support
Developer Access
Pricing
| | | | |
| --- | --- | --- | --- |
| Personal | Business | Commerce (Basic) | Commerce ( Advanced) |
| $16/mo | $23/mo | $27/mo | $49/mo |
3. WordPress.com

WordPress.com is a renowned platform that empowers individuals and businesses to create, manage, and host websites with remarkable flexibility and ease. Launched in 2005, WordPress.com has become synonymous with content management and web publishing, offering a robust set of features for bloggers, small businesses, and even large enterprises.
WordPress.com excels in content management, providing a user-friendly dashboard where users can easily create and organize their content. It offers a block-based editor that simplifies the process of adding text, images, videos, and other media.
Features
Content Management
Customization Options
Versatile Plugins
E-commerce Integration
Mobile Responsiveness
SEO Tools
Custom Domains
Community Support
Managed Hosting
Multilingual Capabilities
Strong Security
Developer Access
Pricing
| | | | | | |
| --- | --- | --- | --- | --- | --- |
| Free | Personal | Premium | Business | Commerce | Enterprise |
| $0/mo | $4/mo | $8/mo | $25/mo | $45/mo | $25,000/year |
4. Weebly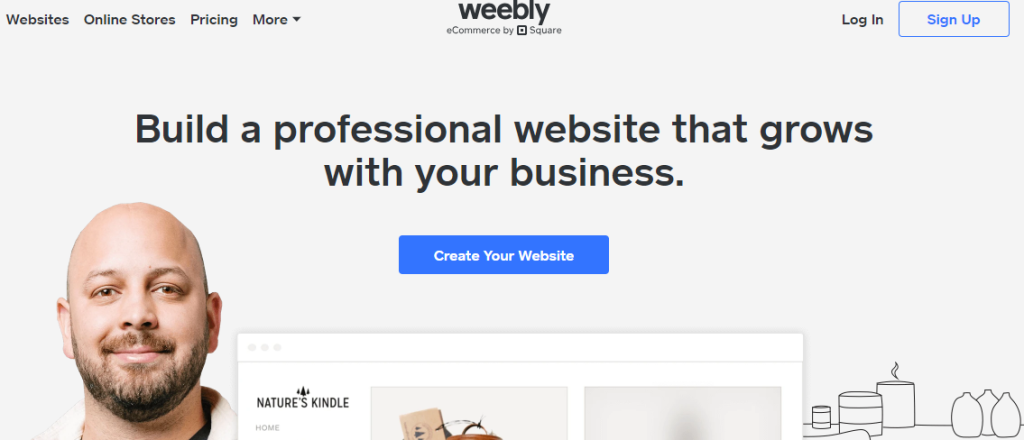 Weebly is a user-friendly website builder that has gained popularity for its simplicity and accessibility. Launched in 2006, Weebly has made it easy for individuals, entrepreneurs, and small businesses to establish an online presence without the need for extensive technical expertise. With its intuitive drag-and-drop interface and a variety of features, Weebly has become a go-to choice for those looking to create websites quickly and efficiently.
Weebly's hallmark feature is its drag-and-drop editor, which allows users to easily add, arrange, and customize elements like text, images, videos, and forms. This intuitive interface makes it accessible to users of all skill levels.
Features
Drag-and-Drop
Templates Selection
Mobile Optimization
E-commerce Tools
Built-in Blogging
App Integration
SEO Support
Custom Domains
Website Analytics
Form Builder
User Accounts
SSL Security
Pricing
| | | | |
| --- | --- | --- | --- |
| Free | Personal | Professional | Performance |
| $0/mo | $10 /mo | $12 /mo | $26 /mo |
5. Joomla

Joomla is a powerful and versatile content management system (CMS) that has been a prominent player in the world of web development since its inception in 2005. Designed for users seeking greater control and flexibility in website creation, Joomla has garnered a dedicated community of developers, businesses, and individuals who appreciate its robust features, extensibility, and scalability.
Joomla is an open-source CMS, which means it is freely available for anyone to use and modify. This open nature has led to a vibrant and supportive community of developers and enthusiasts who continually contribute to its improvement.
Features
Open Source
Flexible CMS
Templates Galore
Extensions Abound
Multilingual Support
User Management
Scalable Solution
SEO-Friendly
Robust Security
Developer-Friendly
Active Community
Pricing
Joomla serves as a cost-free and open-source platform for publishing web content through a content management system (CMS).
6. WooCommerce

WooCommerce stands as a prominent and highly acclaimed e-commerce platform, renowned for seamlessly integrating with the widely used WordPress content management system. Since its inception in 2011, WooCommerce has transformed the landscape of online retail, emerging as a go-to choice for businesses of all sizes aspiring to establish and expand their digital storefronts.
With its expansive array of features and unparalleled flexibility, WooCommerce empowers merchants to craft, manage, and expand their e-commerce enterprises with remarkable ease and precision.
Features
WordPress Integration
E-commerce Powerhouse
Customization Options
Plugin Ecosystem
Scalability Flexibility
Mobile Responsiveness
SEO Optimization
Transaction Security
Analytics Insights
Supportive Community
Global Capabilities
Pricing
WooCommerce serves as a cost-free plugin for WordPress. Given their complementary nature, in principle, you can launch an online store without any initial expenses. However, you can check the pricing here.
7. ISPmanager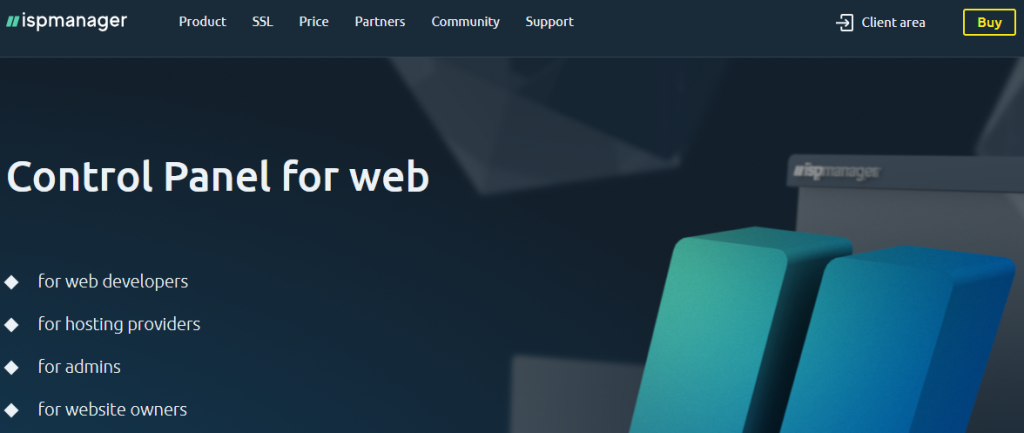 ISPmanager is a renowned web hosting control panel that has simplified the intricate task of managing web hosting environments since its introduction. This robust and user-friendly control panel offers a comprehensive suite of tools and features designed to empower web hosting providers, system administrators, and website owners in effectively managing and maintaining their hosting infrastructure.
ISPmanager's standout feature is its intuitive and user-friendly interface. It streamlines complex hosting tasks, making them accessible even to those without extensive technical expertise. This ease of use is a boon for both hosting providers and website owners.
Features
User-Friendly
Multi-Server Management
Web Hosting
Server Security
Reseller Capabilities
Virtualization Support
Backup Management
Billing Integration
Website Building
API Access
Support Resources
Pricing
| | | | |
| --- | --- | --- | --- |
| Lite | Pro | Host | Business |
| €61.6/per year | €123.2/per year | €184.8/per year | €246.4/per year |
8. Blogger

Blogger is a user-friendly and widely recognized blogging platform that has made it effortless for individuals and content creators to share their thoughts, stories, and ideas with the world. Launched in 1999 and later acquired by Google, Blogger has become a go-to choice for bloggers of all backgrounds, from hobbyists to professional writers. With its straightforward interface and essential blogging tools, Blogger enables users to create and publish content online with ease.
Features
Free Blogging
User-Friendly
Intuitive Editor
Customizable Templates
Google Hosting
Integration Benefits
Mobile-Friendly
Built-in SEO
AdSense Monetization
Social Sharing
Community Support
Content Ownership
Multilingual Support
Pricing
Blogger can be established at no cost if you opt to build a website with the .blogspot subdomain.
9. Bubble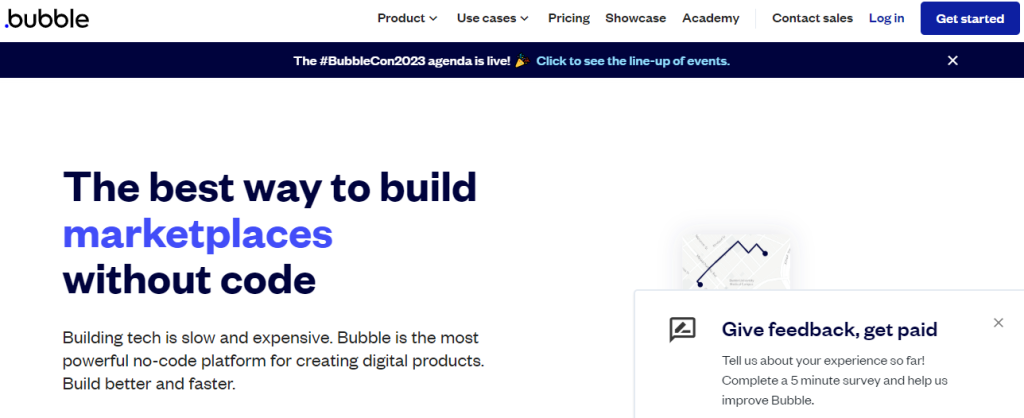 Bubble is a popular website builder that empowers individuals and businesses to create custom web applications without the need for extensive coding knowledge. Bubble is renowned for being a no-code or low-code development platform. This means you can build web applications without having to write extensive lines of code. Instead, you use a visual interface to design your application's front end and define its functionality.
Bubble's intuitive drag-and-drop interface allows users to place elements on web pages and customize them easily. This makes it accessible to people with little to no programming experience.
Features
No-Code Development
Drag-and-Drop Design
Database Integration
Responsive Layout
Workflow Automation
Third-Party Integrations
Scalability Options
Hosting and Deployment
Supportive Community
Flexible Pricing
Pricing
| | | | |
| --- | --- | --- | --- |
| Free | Starter | Growth | Team |
| $0/mo | $29/mo | $119/ mo | $349/mo |
10. Medium

Medium is a prominent online platform that serves as a publishing and content-sharing platform. It was founded in 2012 by Evan Williams and Biz Stone, two of the co-founders of Twitter. Medium has gained popularity for its unique approach to online publishing and its commitment to high-quality content.
Medium offers a simple and user-friendly interface for writers and content creators to publish articles, stories, and essays. Users can easily format and style their content using the built-in editor.
Features
User-Friendly Publishing
Diverse Content
Curation and Recommendations
Partner Program
Community Engagement
Publications and Collections
Mobile-Friendly
Membership Benefits
Social Media Integration
Quality Emphasis
Pricing
Medium costs $5/month for its membership.
11. HostGator

HostGator is a well-known web hosting company that provides a range of web hosting services to individuals and businesses. HostGator offers various hosting services, including shared hosting, dedicated hosting, VPS (Virtual Private Server) hosting, and WordPress hosting. They cater to different hosting needs, from small personal websites to large e-commerce platforms.
HostGator is known for its user-friendly control panel and easy setup process, making it accessible to individuals with varying levels of technical expertise.
Features
Hosting Services
Reliability and Uptime
Customer Support
Control Panel
One-Click Installations
Security Features
Scalability
Competitive Pricing
Green Hosting Initiative
Pricing
| | | |
| --- | --- | --- |
| Hatchling Plan | Baby Plan | Business Plan |
| $3.75/mo | $4.50/mo | $6.25/mo |
12. GoDaddy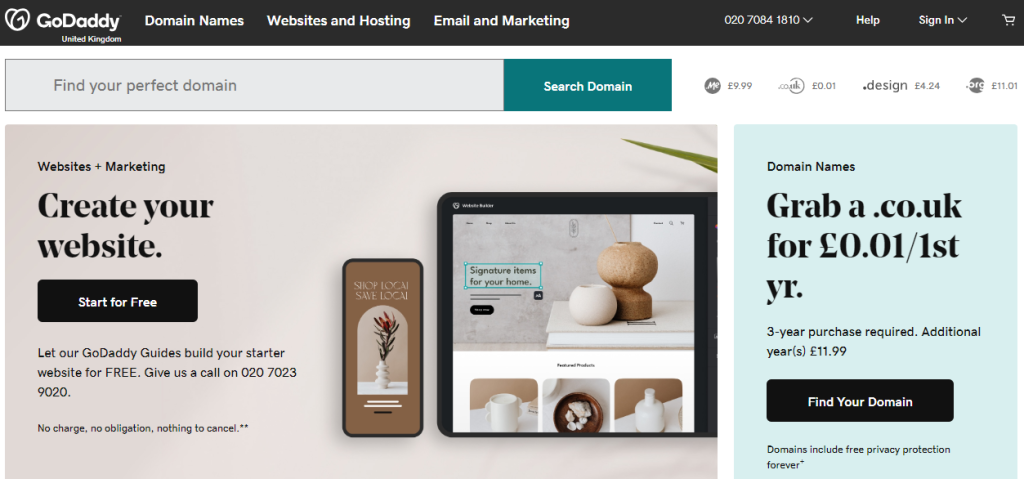 GoDaddy is a well-known and widely used web hosting and domain registration company founded in 1997. It has grown to become one of the world's largest domain registrars and hosting providers. GoDaddy is primarily recognized for its domain registration services. They offer a vast selection of domain extensions (TLDs) and make it easy for individuals and businesses to search for, register, and manage domain names.
GoDaddy offers a 99.9% uptime guarantee, ensuring that websites hosted on their servers remain accessible to visitors with minimal downtime. They have data centres and infrastructure designed for reliability.
Features
Domain Registration
Hosting Services
Reliability and Uptime
Customer Support
Control Panel
Security Features
Scalability
Competitive Pricing
Additional Services
Community and Resources
Pricing
| | | | |
| --- | --- | --- | --- |
| Web Hosting Economy | Web Hosting Deluxe | Web Hosting Ultimate | Web Hosting Maximum |
| £3.99/mo | £5.99/mo | £7.49/mo | £10.99/mo |
13. Pixpa

Pixpa is a web-based platform designed for creatives, photographers, artists, and other visual professionals to build and manage their online portfolios and e-commerce websites. Founded in 2013, Pixpa has gained popularity for its user-friendly interface, creative flexibility, and a range of features tailored to the needs of visual artists.
Pixpa provides a robust set of tools and templates that allow users to create stunning and customizable online portfolios. Artists can showcase their work in a visually appealing and professional manner, making it easy to impress potential clients and customers.
Features
Portfolio Building
E-commerce Integration
Website Customization
Mobile Responsiveness
SEO-Friendly
Blogging
Client Galleries
Domain and Hosting
Analytics and Insights
Customer Support and Resources
Pricing
| | | | |
| --- | --- | --- | --- |
| Basic | Creator | Professional | Advanced |
| $3.60/mo | $7.20/mo | $10.80/mo | $15/mo |
14. Zyro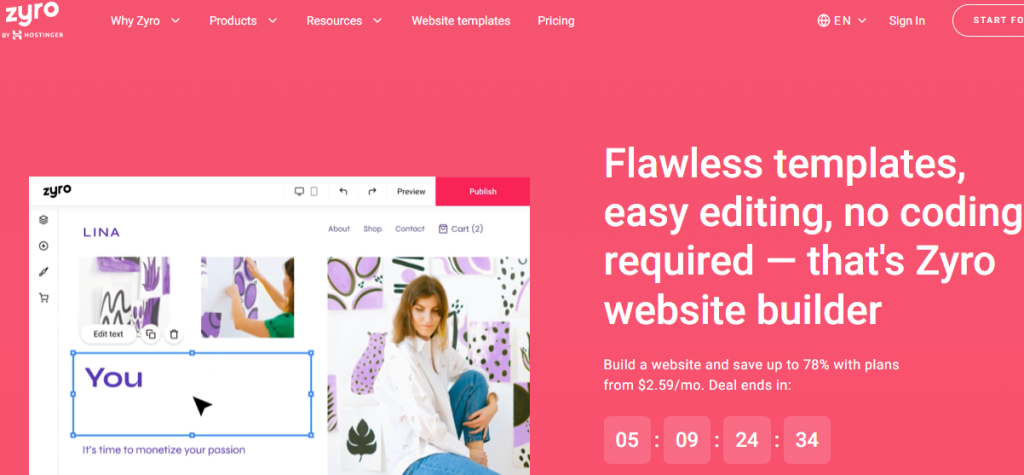 Zyro is a website builder and e-commerce platform that empowers individuals and small businesses to create professional and feature-rich websites without the need for coding or technical expertise. Launched in 2019, Zyro has gained popularity for its user-friendly interface, AI-driven design capabilities, and a range of tools that simplify the website creation process.
Zyro distinguishes itself with its AI-driven design capabilities. Users can input their preferences, and Zyro's AI algorithm generates a visually appealing and responsive website design based on those inputs.
Features
AI-Powered Website Design
User-Friendly Editor
E-commerce Integration
Mobile Responsiveness
SEO Tools
Blogging
AI Content Generator
Domain and Hosting
Analytics and Insights
Customer Support
Pricing
| | |
| --- | --- |
| Website | Business |
| $2.59 /mo | $3.59 /mo |
15. Shopify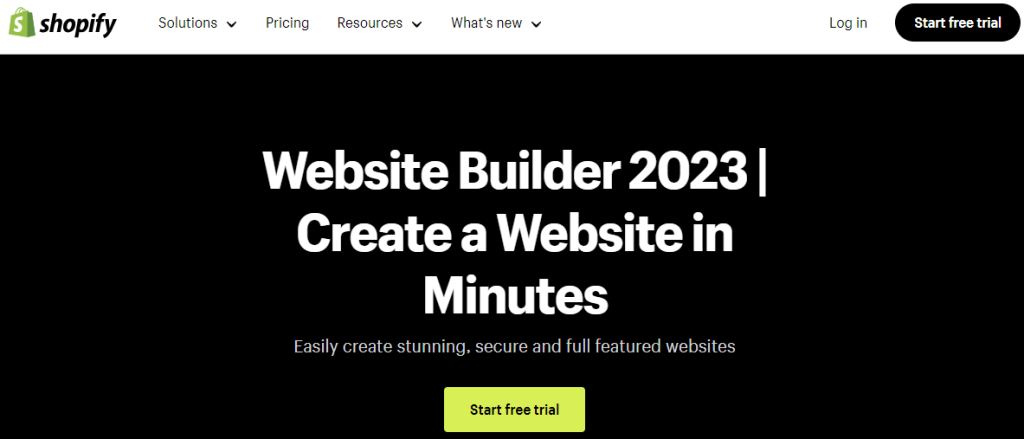 Shopify is a popular and widely-used e-commerce platform that enables businesses of all sizes to create and manage online stores and sell products or services. Launched in 2006, Shopify has become a leading platform in the e-commerce industry due to its user-friendly interface, flexibility, and extensive range of features.
Shopify provides users with the tools to build and customize their online stores without requiring coding knowledge. Users can choose from a variety of professionally designed templates or create a unique store design.
Features
Store Creation
Product Management
Payment Processing
Shopping Cart and Checkout
Mobile Responsiveness
E-commerce Analytics
SEO Tools
App Store
Multi-Channel Selling
Customization and Themes
Security
Customer Support and Resources
Pricing
| | | |
| --- | --- | --- |
| Basic | Shopify | Advanced |
| $25/mo | $65/mo | $399/mo |
FAQs - Google Sites Alternative
What distinguishes Shopify as an e-commerce platform?
Shopify provides an all-in-one solution for building and managing online stores, offering features like product management, payment processing, and multi-channel selling.
These FAQs can help provide valuable information to readers interested in exploring alternatives to Google Sites for their website building needs.
How does Zyro use AI technology in website creation?
Zyro uses AI-powered design capabilities to create visually appealing and responsive websites based on user preferences.
How does Pixpa cater to visual professionals and artists?
Pixpa offers portfolio building, e-commerce integration, and creative customization options tailored to visual artists and photographers.
Conclusion
In conclusion, as we've embarked on this journey to explore top Google Sites alternative, we've witnessed a rich tapestry of website builders and platforms, each offering its unique set of strengths and features. Whether you're an artist looking to showcase your work, a blogger sharing your thoughts, or an entrepreneur venturing into e-commerce, there's a tailored solution awaiting you. So, embrace the possibilities, explore these alternatives, and embark on your web development journey with the confidence that the right platform awaits to help you craft your digital masterpiece.
Related Content: