In the dynamic realm of web hosting services, where businesses and individuals seek reliable, affordable, and feature-rich solutions for their online presence, exploring alternatives to a renowned provider like Hostinger can be an enlightening endeavor. Hostinger, well-known for its budget-friendly hosting options and user-friendly interface, has set high standards in the industry. However, a multitude of alternative hosting providers await discovery, each with its unique strengths and offerings. Whether you're seeking enhanced performance, specialized hosting environments, or different pricing structures, this discussion on Hostinger alternative is your gateway to exploring a diverse landscape of web hosting options that cater to a wide range of needs and preferences.
Top 25 Hostinger Alternatives in 2023
Explore the top 25 alternatives to Hostinger in 2023, each offering a unique blend of features, performance, and pricing to cater to your web hosting needs. From industry stalwarts to up-and-coming providers, discover the best options to power your online presence.
1. Blue Host

Bluehost is a well-established and highly reputable web hosting provider that has been serving millions of websites since its inception in 2003. With a strong commitment to reliability, performance, and customer support, Bluehost has earned its place as one of the most trusted names in the hosting industry.
One of Bluehost's standout features is its ease of use, making it an excellent choice for both beginners and experienced webmasters. They offer a user-friendly control panel that simplifies website management tasks such as domain registration, site building, and email configuration. Additionally, Bluehost provides a one-click installer for popular content management systems like WordPress, Joomla, and Drupal, streamlining the process of setting up a website.
Find Out What's New: Click to Our Latest Blog
Stay up-to-date and explore our most recent blog post to discover fresh insights, trends, and updates in your area of interest.
Features
WordPress Hosting
Free Domain
SSL Included
Website Builder
24/7 Support
Email Hosting
eCommerce Solutions
Resource Protection
Scalable Plans
Marketing Tools
Money-Back Guarantee
CDN Access
Fast Servers
Security Features
Automatic Backups
Pricing
| | | | |
| --- | --- | --- | --- |
| Basic | Plus | Choice Plus | Pro |
| $2.95/mo | $5.45/mo | $5.45/mo | $13.95/mo |
2. Site Ground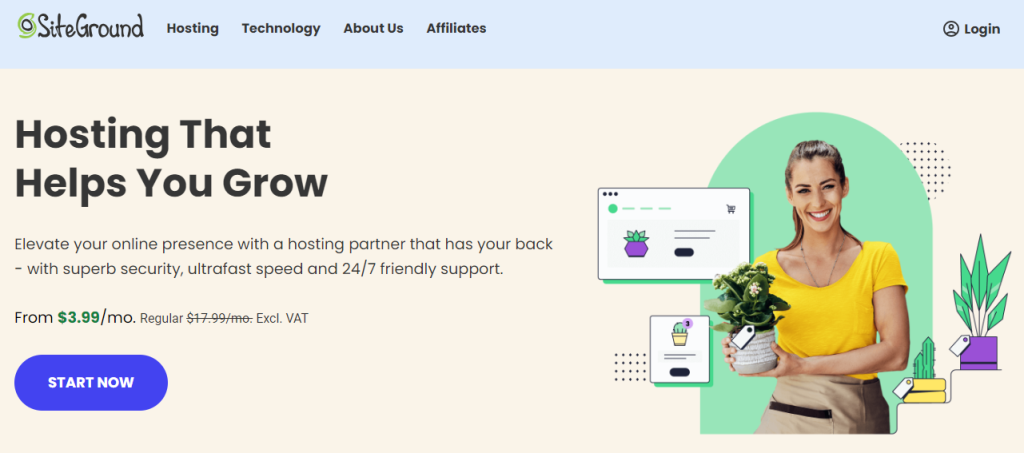 SiteGround is a prominent web hosting company recognized for its exceptional performance, reliability, and strong commitment to customer support. Founded in 2004, SiteGround has since become a preferred choice for hosting websites of various sizes, from small blogs to large e-commerce platforms.
SiteGround places a significant emphasis on performance. They utilize cutting-edge hardware and software solutions, such as SSD storage, NGINX web server technology, and a custom caching system, to ensure lightning-fast loading times for websites. Their servers are also strategically located in data centres around the world for optimal speed and uptime.
Enhance Your CyerPanel Experience Today!
Discover a world of enhanced features and show your support for our ongoing development with CyberPanel add-ons. Elevate your experience today!
Learn More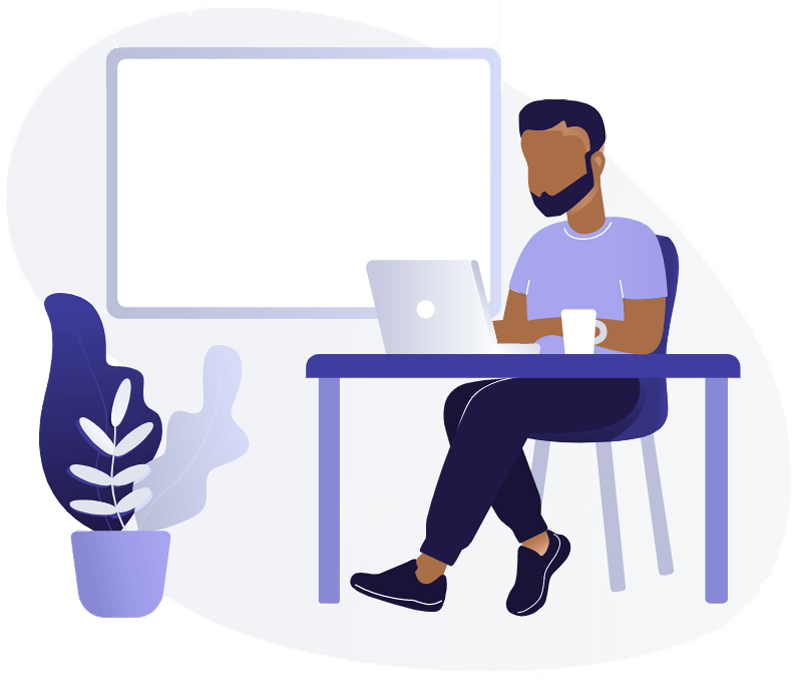 Features
Performance Excellence
24/7 Support
User-Friendly
Free Migration
Strong Security
Scalable Hosting
WordPress Focus
Free SSL
Developer Tools
Money-Back Guarantee
Pricing
| | | |
| --- | --- | --- |
| StartUp | GrowBig | GoGeek |
| $3.99/mo | $6.69/mo | $10.69/mo |
3. A2 Hosting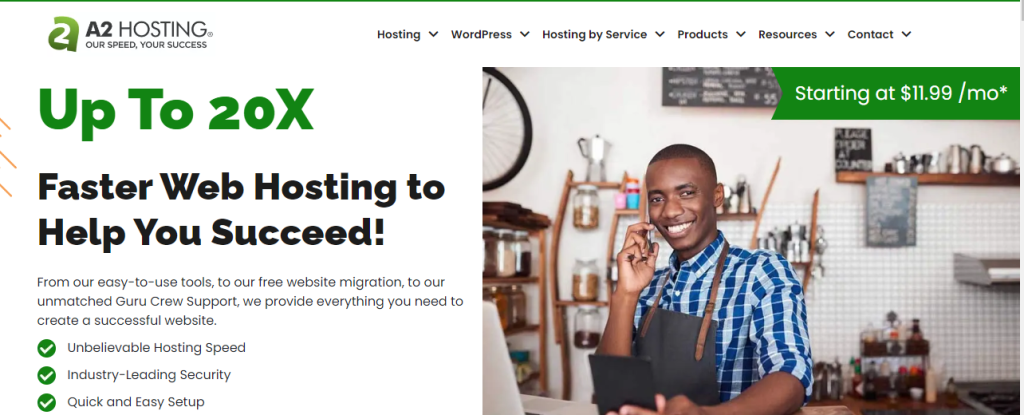 A2 Hosting is a well-regarded web hosting provider known for its speed, reliability, and developer-friendly features. Founded in 2003, A2 Hosting has built a strong reputation for delivering high-performance hosting solutions. A2 Hosting is renowned for its high-speed hosting services. They utilize SSD storage, Turbo Servers, and optimized software to ensure rapid website loading times and an enhanced user experience.
A2 Hosting's focus on speed, developer support, and security, along with its diverse range of hosting options, positions it as a strong choice for individuals, businesses, and developers seeking top-tier hosting services. Whether you're running a personal blog, e-commerce site, or complex web application, A2 Hosting offers hosting solutions tailored to various needs.
Features
Swift Performance
Developer-Friendly
Guru Crew Support
Free Migration
Robust Security
Global Data Centers
Diverse Hosting
Anytime Guarantee
Green Hosting
Free Builder
Pricing
| | | | |
| --- | --- | --- | --- |
| Shared Hosting | WordPress Hosting | VPS Hosting | WordPress Hosting |
| $2.99/mo | $11.99/mo | $39.99/mo | $155.99/mo |
4. InMotion Hosting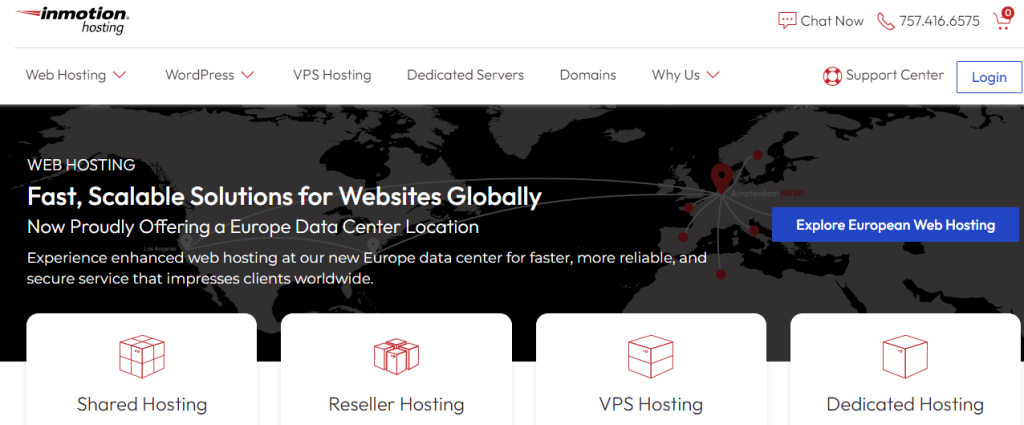 InMotion Hosting is a well-established and reputable web hosting provider known for its reliable hosting services, excellent customer support, and a strong commitment to performance and security. Founded in 2001, InMotion Hosting has consistently earned the trust of individuals, businesses, and organizations seeking dependable hosting solutions.
InMotion Hosting prioritizes website performance by utilizing high-speed SSD storage, advanced server hardware, and strategically located data centers. This ensures fast loading times and high uptime rates for hosted websites.
Features
Superior Performance
Excellent Support
User-Friendly
Free Migration
Robust Security
Scalable Plans
WordPress Optimized
E-commerce Hosting
Developer Tools
90-Day Guarantee
Pricing
You can find the pricing details for InMotion Hosting here.
5. Dream Host

DreamHost is a long-standing and reputable web hosting company that has been serving websites since its founding in 1997. With a strong focus on open-source technologies, transparency, and sustainability, DreamHost has earned a reputation as a reliable hosting provider.
DreamHost is known for its support of open-source software and communities. They actively contribute to various open-source projects and offer hosting environments tailored to popular platforms like WordPress, Joomla, and more.
Features
Open Source
Reliable Uptime
User-Friendly
Solid Security
Scalable Hosting
WordPress Optimized
Green Hosting
Responsive Support
Website Builder
Money-Back Guarantee
Pricing
You can find the pricing of different domains here.
6. CyberPanel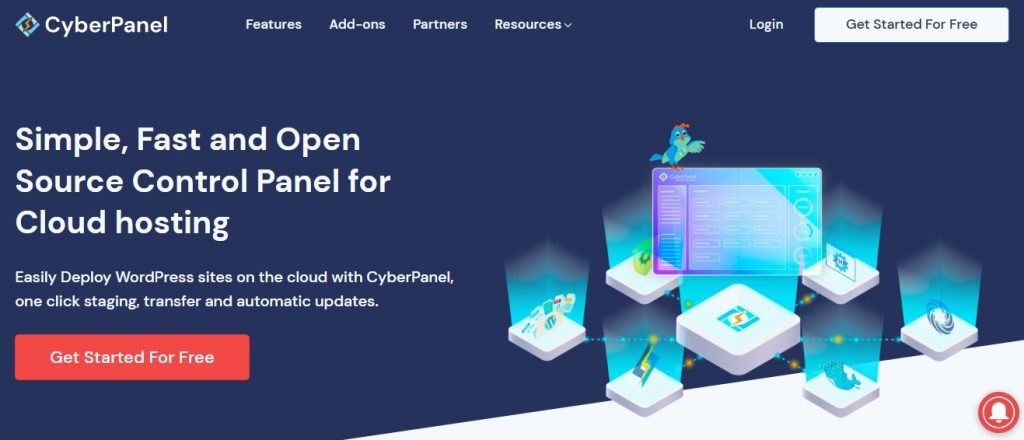 CyberPanel functions as an advanced control panel for web hosting, meticulously designed to simplify the complex task of managing web hosting environments. This state-of-the-art platform is specifically customized to seamlessly integrate with the high-performance LiteSpeed web server, widely recognized for its remarkable speed and unmatched efficiency.
By adopting CyberPanel, individuals are provided with an intuitive and user-friendly interface that makes the management of various aspects within their hosting environment a seamless experience. Whether it's overseeing websites and domains or efficiently handling databases and email accounts, CyberPanel empowers users to effortlessly navigate these intricacies.
Features
Streamlined Workflow for Development
Harnessing the Power of LiteSpeed Cache
Intuitive Interface for Users
Robust Security Protocols
Backup Choices at Your Fingertips
Swift SSL Integration
Automated Login Procedures
Creation of Staging Environments
Efficient FileManager Functionality
Seamlessly Integrated ModSec and CSF
Simple One-Click Installation
Continuous Development and Improvement
Pricing
| | | |
| --- | --- | --- |
| Rspamd Manager | WordPress Manager | All Addons |
| $6.99/mo | $6.99/mo | $7.99/mo |
7. HostGator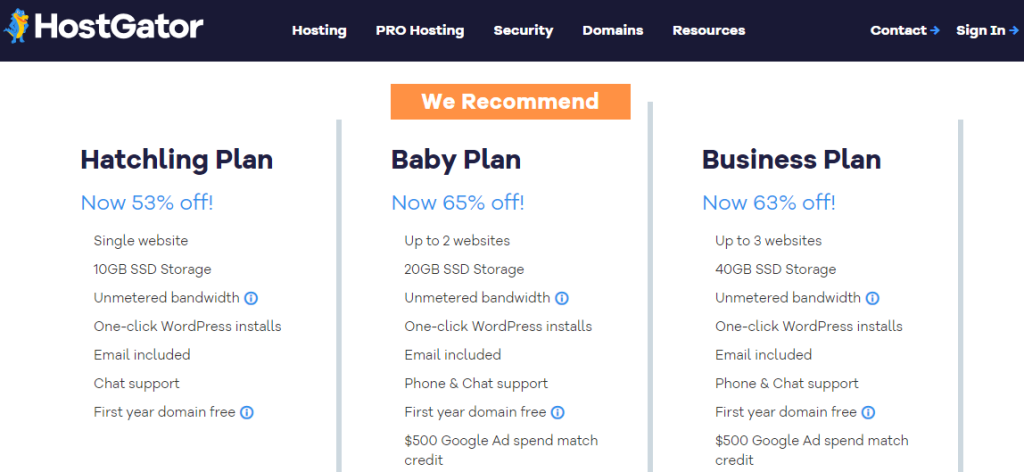 HostGator is a well-established web hosting company with a global presence, offering a wide range of hosting services to cater to individuals, small businesses, and larger organizations. Founded in 2002, HostGator has become known for its user-friendly hosting solutions, reliability, and extensive customer support.
HostGator offers a diverse selection of hosting plans, including shared hosting, VPS hosting, dedicated hosting, and cloud hosting. This variety allows customers to choose the hosting solution that best suits their needs.
Features
Hosting Variety
User-Friendly
Uptime Guarantee
24/7 Support
Website Builder
Script Installation
Scalable Plans
Strong Security
E-commerce Solutions
Money-Back Guarantee
Green Hosting
Pricing
| | | |
| --- | --- | --- |
| Hatchling Plan | Baby Plan | Business Plan |
| $3.75/mo | $4.50/mo | $6.25/mo |
8. GreenGeeks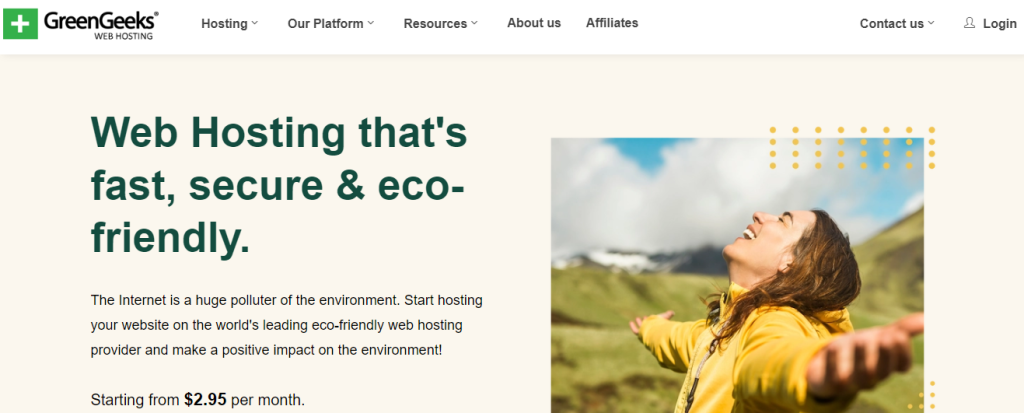 GreenGeeks is an environmentally-conscious web-hosting company founded in 2008 with a unique commitment to sustainability. They provide web hosting solutions that are not only reliable and feature-rich but also eco-friendly. GreenGeeks has gained recognition for its efforts to reduce the environmental impact of web hosting while delivering top-notch services.
GreenGeeks is a pioneer in the green hosting industry. They are committed to offsetting three times the amount of energy they consume by investing in renewable energy sources like wind energy. This makes them a carbon-reducing hosting provider, contributing to a more sustainable future.
Features
Eco-Friendly Hosting
High Uptime
User-Friendly
24/7 Support
Free Migration
Robust Security
Scalable Plans
WordPress Optimized
Developer-Friendly
Money-Back Guarantee
Free Builder
Price
| | | |
| --- | --- | --- |
| Lite | Pro | Premium |
| $2.95/mo | $4.95/mo | $8.95/mo |
9. iPage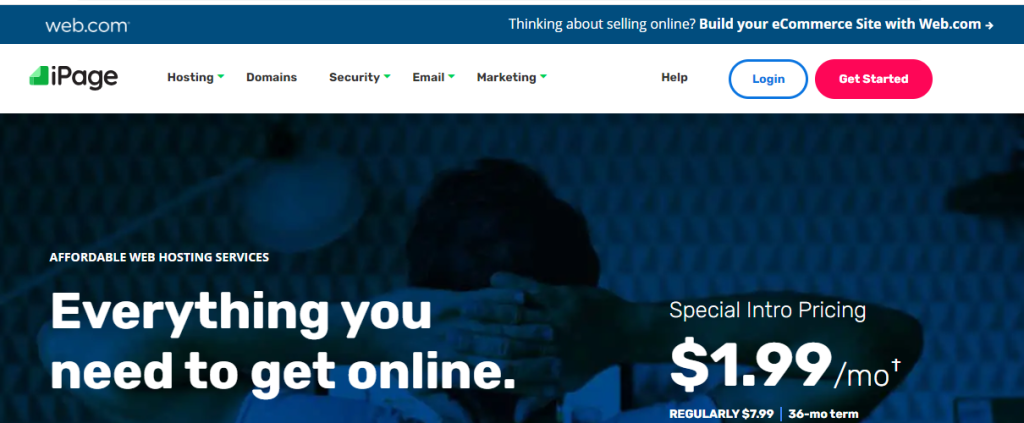 iPage is a budget-friendly web hosting company that has been providing hosting services since its establishment in 1998. Known for its simplicity and affordability, iPage has attracted a wide range of users, from individuals looking to create personal websites to small businesses seeking a cost-effective hosting solution.
iPage offers some of the most budget-friendly hosting plans in the industry, making it an attractive choice for individuals and small businesses on a tight budget.
Feature
Budget-Friendly
User-Friendly
Website Builder
WordPress Hosting
Free Domain
Email Hosting
24/7 Support
Security Features
Scalable Plans
Money-Back Guarantee
E-commerce Solutions
VPS Hosting
Pricing
You can find the pricing details here.
10. WP Engine

WP Engine is a premium managed WordPress hosting provider known for its focus on speed, security, and high-performance WordPress hosting solutions. Founded in 2010, WP Engine has gained a reputation for offering a top-tier hosting experience tailored specifically for WordPress users.
WP Engine specializes in managed WordPress hosting, providing hosting solutions optimized exclusively for WordPress websites. This focus results in enhanced performance and reliability for WordPress users.
Features
Managed WordPress
Blazing Speed
Robust Security
Staging Environments
Automatic Backups
Scalable Plans
WordPress Expertise
Developer-Friendly
Content Performance
Global Data Centers
E-commerce Hosting
Enterprise-Grade
Pricing
| | | |
| --- | --- | --- |
| WordPress Hosting | eCommerce Solutions for Woo | Custom Solutions |
| $20/mo | $50/mo | $600/mo |
11. Digital Ocean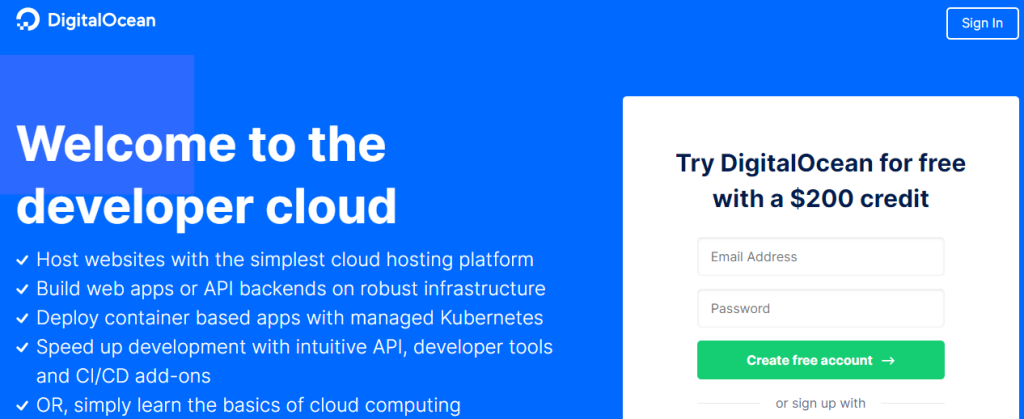 DigitalOcean is a cloud infrastructure provider known for its simplicity, developer-friendly approach, and cost-effective cloud computing solutions. Founded in 2011, DigitalOcean has gained popularity among developers, start-ups, and businesses seeking reliable and scalable cloud hosting services.
DigitalOcean's virtual machines, called "Droplets," serve as the foundation of its cloud infrastructure. Users can quickly deploy and configure Droplets to meet their specific needs, whether it's hosting a website, running applications, or setting up development environments.
Features
Cloud Droplets
Developer-Friendly
Scalable Hosting
One-Click Apps
Global Data Centers
Managed Kubernetes
Managed Databases
Block Storage
Load Balancers
Active Community
Predictable Pricing
Security Features
Pricing
| | | |
| --- | --- | --- |
| Basic Droplets | Managed Kubernetes | Professional App Platform |
| $5.00/mo | $10.00/mo | $12.00/mo |
12. Sandstorm
Sandstorm is an innovative open-source platform that empowers individuals and organizations to take control of their web applications and data. It provides a unique approach to self-hosting and managing a wide range of web applications securely and efficiently.
Sandstorm simplifies the process of self-hosting web applications. It allows users to run applications on their own servers or cloud instances without requiring advanced technical expertise.
Features
Self-Hosting
App Marketplace
Security Isolation
User-Friendly
Collaboration Tools
Self-Contained Apps
Integration APIs
Data Ownership
Open Source
Community Support
Privacy Control
Pricing
Sandstorm is free of cost.
13. Liquid Web

Liquid Web is a well-established managed hosting and cloud services provider that has been in operation since 1997. Known for its reliable and high-performance hosting solutions, Liquid Web caters to a diverse clientele, including businesses, developers, and agencies.
Liquid Web specializes in managed hosting solutions, taking care of server management, security, and performance optimization. This allows customers to focus on their business without worrying about the technical aspects of hosting.
Features
Managed Hosting
Diverse Offerings
High Performance
Exceptional Uptime
Outstanding Support
Security Focus
WordPress Hosting
Developer-Friendly
Scalable Plans
Global Data Centers
Custom Solutions
Pricing
| | | |
| --- | --- | --- |
| Intel Xeon 1230V6 | Intel Xeon Gold 6226R SINGLE | Intel Xeon Gold 6226R DUAL |
| $149/mo | $199/mo | $399/mo |
14. Hostwinds

Hostwinds is a web hosting company founded in 2010, offering a wide range of hosting services that cater to individuals, small businesses, and enterprises. With a customer-centric approach, Hostwinds has gained a reputation for its reliable hosting solutions and exceptional customer support.
Hostwinds provides a diverse range of hosting services, including shared hosting, VPS hosting, dedicated hosting, cloud hosting, and reseller hosting. This variety ensures that customers can find a hosting solution that suits their specific needs.
Features
Variety Hosting
High Performance
Uptime Guarantee
Customer Support
User-Friendly
Security Features
Scalable Plans
Free Migration
Developer-Friendly
Money-Back Guarantee
Unmetered Bandwidth
Windows Hosting
Pricing
| | | |
| --- | --- | --- |
| Basic | Advanced | Ultimate |
| $ 5.24/mo | $ 6.74/mo | $ 8.24/mo |
15. GoDaddy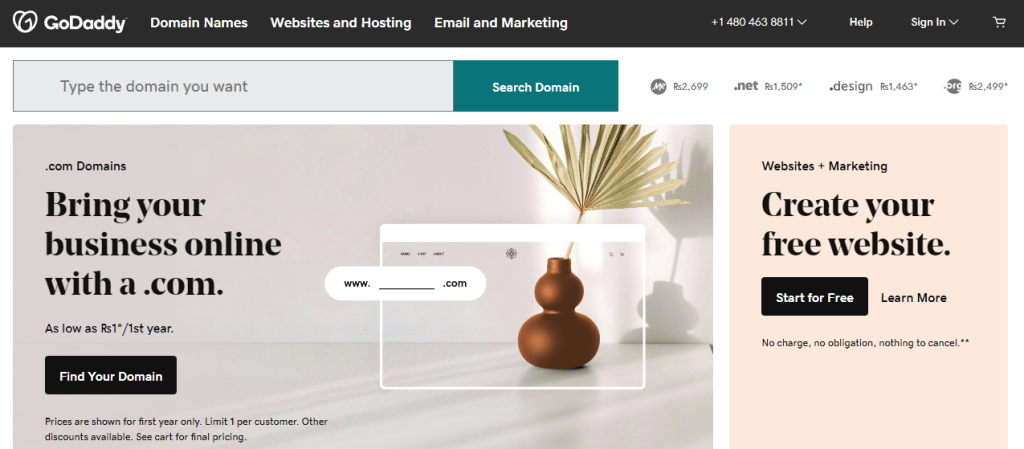 GoDaddy is a well-known and widely used web hosting and domain registration company. Founded in 1997, it has grown to become one of the largest and most recognizable names in the web hosting and domain industry. GoDaddy offers a range of services designed to help individuals and businesses establish and maintain an online presence.
GoDaddy is one of the largest domain registrars globally, allowing customers to search for, register, and manage domain names with ease. They offer a wide variety of domain extensions, including popular options like .com, .net, .org, and many more.
Features
Domain Registration
Web Hosting
Website Builder
E-commerce Solutions
SSL Certificates
Business Email
Customer Support
Security Features
Scalability
Marketing Tools
Global Data Centres
Managed WordPress
Pricing
GoDaddy's Website Builder begins at an affordable $11.99 per month. You can find the pricing details here.
16. CloudPages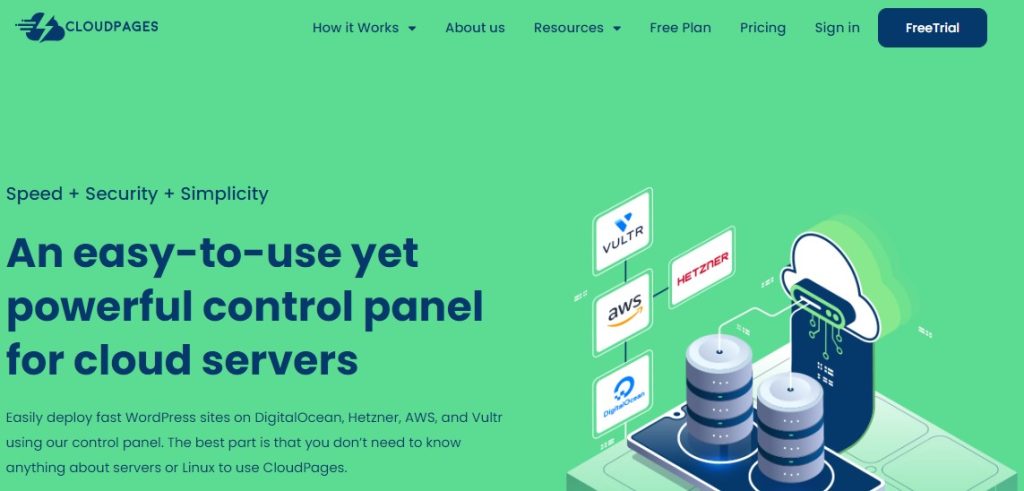 CloudPages stands out as an exceptional control panel designed with a strong emphasis on user-friendliness, aiming to transform the landscape of cloud server management. This platform expertly strikes a balance between accessibility and simplicity, providing a wide range of features and capabilities. Whether you're a seasoned administrator or a newcomer to server management, CloudPages proves to be a valuable tool tailored to individuals with varying levels of expertise.
One remarkable aspect of CloudPages is its inherent capability to effortlessly create high-speed WordPress websites on renowned platforms such as DigitalOcean, Hetzner, AWS, and Vultr. This streamlined process simplifies what was once a complex task of constructing robust websites, allowing users to concentrate on content and functionality rather than grappling with technical intricacies.
Features
Thorough Server Load Reports
Advanced Firewall Deployment
Effortless WordPress Management
Team Oversight Features
Swift One-Click Staging
Git Integration for Control
Comprehensive PHP Control
Multi-Version PHP Assistance
Integrated FileManager
Instant SSL Setup at No Cost
Efficient ModSecurity Setup
Smooth reCaptcha Implementation
Pricing
| | | |
| --- | --- | --- |
| Personal | Freelancer | Agency |
| $10 /mo | $16 /mo | $40 /mo |
17. Bigrock

BigRock is a prominent and well-established web hosting and domain registration provider, serving a diverse clientele that includes individuals, small businesses, and enterprises. Since its inception in 2010, BigRock has earned a reputation for offering reliable hosting services and domain solutions.
BigRock is known for its domain registration services, allowing customers to search, register, and manage domain names with ease. They offer a wide range of domain extensions, including popular ones like .com, .net, .org, and more.
Features
Domain Registration
Web Hosting
Website Builder
E-commerce Solutions
SSL Certificates
Customer Support
Security Features
Scalability
Developer-Friendly
Global Data Centres
Email Hosting
Pricing
| | | |
| --- | --- | --- |
| Shared Hosting | VPS Hosting | Dedicated Server |
| ₹79/mo | ₹449/mo | ₹8249/mo |
18. Cluster CS

ClusterCS is a comprehensive web hosting control panel and server management platform designed to simplify the management and optimization of web hosting environments. It provides a range of features and tools that cater to both beginners and experienced web administrators.
ClusterCS offers an intuitive and user-friendly interface that simplifies server management tasks. Whether you're a novice or an experienced system administrator, you can navigate and configure your server settings with ease.
Features
User-Friendly
Multi-Server Management
Performance Optimization
Security Measures
Scalability
Backup and Restore
Application Support
Real-Time Monitoring
Collaboration Tools
Continuous Development
Pricing
You can find the details of the pricing of Cluster CS here.
19. CyberHosting

Enabling more than 100,000 users to efficiently oversee their LiteSpeed deployments through CyberPanel and CloudPages, CyberHosting represents a substantial advancement. Carefully designed, this solution aims to simplify the complexities of server management, freeing you to focus on your clients without the burden of intricate server operations. CyberHosting not only streamlines server-related responsibilities but also serves as a pathway to a client-centric approach, cultivating an environment where you can nurture and strengthen your business relationships.
Features
Continuous Assistance
Optimized WordPress
Inherent Security
Cost-Effective
Pricing
After you've made your server selection, you will be directed to the CyberHosting Server Deployment Platform, where you'll have the choice to pick your server control panel—either CloudPages or CyberPanel. For a detailed breakdown of prices, you can review them at this link.
20. cPanel

cPanel has established itself as a prominent solution, offering a comprehensive platform that allows users to effectively oversee their websites and hosting environments through an intuitive and unified interface. By consolidating various functions into a single control center, this inclusive control panel serves as the cornerstone of efficient web management. It caters to a wide range of users, from beginners venturing into web hosting to experienced administrators seeking a streamlined approach.
In the ever-evolving digital landscape, cPanel remains a dependable partner. It transcends its role as a mere control panel and becomes an essential collaborator in the journey of creating and nurturing a strong online presence. With its robust set of tools and a commitment to accessibility, cPanel enhances efficiency, enhances control, and empowers users to craft their digital narratives.
Features
Hosting Emails
Monitoring Resources
Controlling Domains
Managing Files
Implementation of SSL
Filtering Spam
Configuring DNS
Creating Databases
Utilizing Collaborative Tools
Launching Databases
Automating Cron Jobs
Publishing Websites
Installing Scripts
Pricing
| | | | |
| --- | --- | --- | --- |
| cPanel Solo | Admin | Pro | Premier |
| $15/mo | $27/mo | $39/mo | $59/mo |
21. CloudWays

Cloudways offers a comprehensive solution that empowers users to deploy, oversee, and expand web applications across various cloud infrastructure providers. At the core of its service is an intuitive interface that takes care of server and infrastructure administration, allowing developers and businesses to dedicate their efforts to application development and improvement.
Cloudways lightens your workload by managing responsibilities such as server setup, upkeep, and infrastructure scalability. This grants you the freedom to focus on the critical elements of constructing, enhancing, and growing your applications. Through this user-centric approach, Cloudways streamlines the intricate domain of cloud infrastructure management, making it easy to access and hassle-free.
Features
User-Centric Interface
Cloud Security
Auto-Recovery
Security Updates
24/7 Support
Proactive Security
Instant Deployment
Server Management
PHP Support
Custom Firewalls
CMS Compatibility
Control Panel
SSL Certificate
Real-Time Monitoring
Pricing
| | | | |
| --- | --- | --- | --- |
| Plan 1 | Plan 2 | Plan 3 | Plan 4 |
| $14 /mo | $28 /mo | $54 /mo | $99 /mo |
22. Cloudron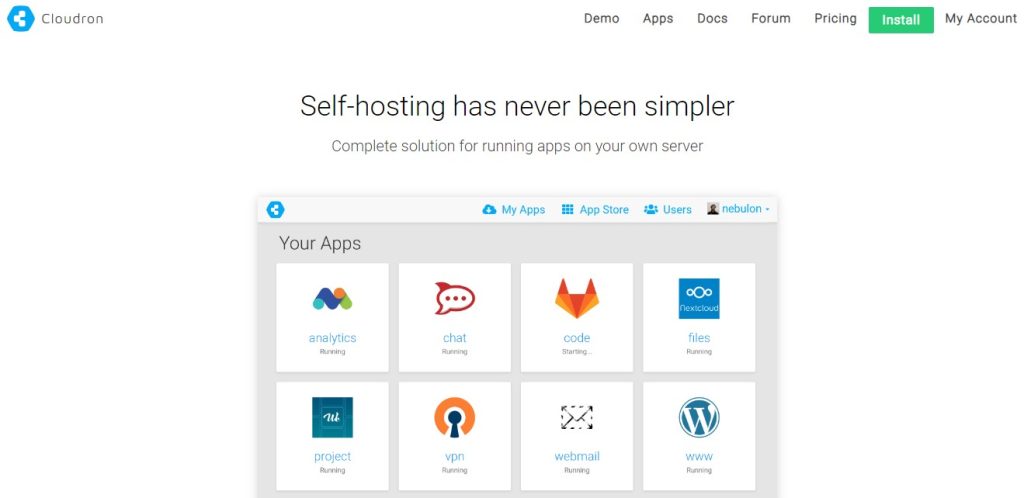 Cloudron provides a platform that simplifies the process of deploying and maintaining web applications on your server. Unlike one-click solutions that necessitate post-installation management and demand expertise in system administration tasks such as certificate configuration, database setup, and backup/restoration strategies, Cloudron offers a comprehensive and unified approach to managing both applications and users.
Once integrated into your server, Cloudron quickly transforms into an intelligent system. This transformation introduces a user-friendly interface for effortless app installations and centralizes user and group management across all applications. By empowering third-party app developers to match the agility of Software as a Service (SaaS) and expand their offerings through the Cloudron App Store, Cloudron nurtures a dynamic ecosystem.
Features
Rapid Application Deployment
Email Integration
System Empowerment
User Access
Continuous Maintenance
Fast Installation
User Integration
Disaster Recovery
Full Portability
Prompt Updates
Pricing
| | |
| --- | --- |
| Free | Premium |
| 0 $/month | 15 $/month |
23. RunCloud

RunCloud has been meticulously designed to simplify the complex tasks associated with deploying, hosting, and overseeing websites and web applications. Whether you're a newcomer to web hosting or an experienced developer well-versed in its intricacies, RunCloud's user-friendly interface seamlessly accommodates various levels of expertise.
An outstanding aspect of RunCloud is its strategic collaboration with well-known cloud service providers like DigitalOcean, AWS, and Google Cloud. This partnership guarantees a seamless integration of server administration with the optimization of website performance. As a user, you can effortlessly harness the capabilities of these industry leaders, seamlessly incorporating their strengths into your hosting environment.
Features
Instant Staging
Collaboration Tools
User Management
Server Optimization
Backup & Restore
API Access
Monitoring & Analytics
Server Controls
Web Server Configuration
Git Integration
PHP Version
SSL Incorporation
Database Management
Firewall Setup
Application Deployment
Pricing
| | | |
| --- | --- | --- |
| Basic | Pro | Business |
| $6.67/mo | $12.5/mo | $37.5/mo |
24. Plesk

Plesk stands out as a premier web hosting control panel and management platform, serving as a robust solution for streamlining the intricate tasks involved in overseeing websites, servers, applications, and hosting environments. What sets Plesk apart is its remarkable ability to transform complex technical operations into user-friendly actions, making it the preferred choice for a diverse spectrum of users.
Its user-centric approach simplifies the management of various aspects of your online presence, providing you with the tools and capabilities needed to efficiently navigate and control your web hosting environment. With Plesk, you can tackle the challenges of web management with confidence and ease, regardless of your level of expertise.
Features
Accessing Emails
Building Websites
Moving Databases
Support for Multiple Languages
Expanding Extensions
Scheduling Backups
Access on Mobile Devices
Improving Files
Managing Domains
Personalizing Apps
Tools for Self-Repair
Pricing
Web Admin Edition
VPS
Web Pro Edition
VPS
Web Host Edition
VPS
Partners
$12.38/mo
$18.79/mo
$32.54/mo
Business Plans
25. ISPmanager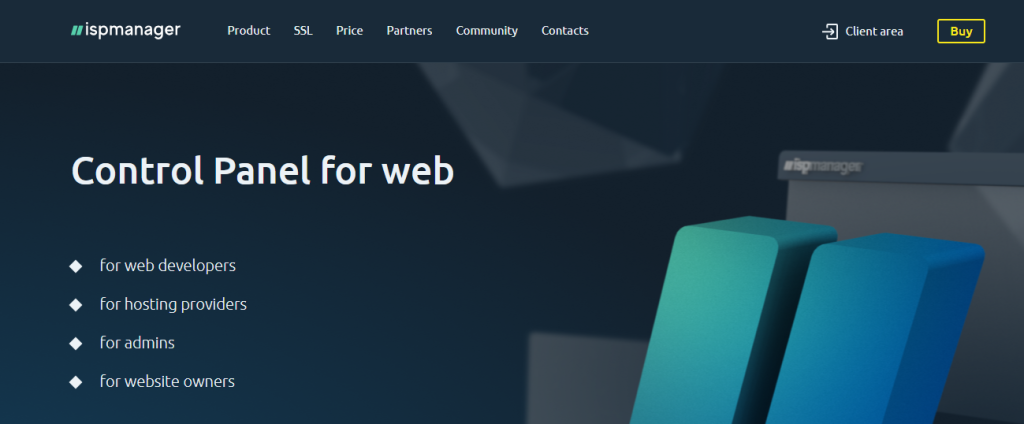 ISPmanager serves as a web server control panel, offering you the capability to oversee your entire web server effortlessly via a user-friendly, all-encompassing multi-language web interface. Tasks such as user administration, hosting packages, mailboxes, databases, and more can be effortlessly managed and navigated from a centralized platform, guaranteeing straightforward and intuitive operation with a mere click.
The ISPmanager Server Control Panel introduces multi-tier access to administrative functions, expanding its adaptability in server management. This hierarchical approach renders ISPmanager suitable for both commercial web hosting and personal applications.
Features
Server Setup
CMS Installation
Domain Management
PHP Versions
File Handling
Backup Options
Database Control
Security Boost
Pricing
| | | | |
| --- | --- | --- | --- |
| Lite | Pro | Host | Business |
| €61.6/year | €123.2/year | €184.8/year | €246.4/year |
FAQs
Are there alternatives with a strong focus on managed WordPress hosting?
Yes, several alternatives, such as WP Engine, specialize in managed WordPress hosting, providing optimized performance and support for WordPress websites.
Are there alternatives that specialize in specific types of hosting, such as e-commerce or content management systems (CMS)?
Yes, some alternatives specialize in hosting specific types of websites, including e-commerce platforms and popular CMSs like WordPress, Joomla, and Drupal. The article highlights these specialized options.
Can I transfer my website easily from Hostinger to one of these alternatives?
Website migration processes vary, but most hosting alternatives offer guidance or assistance to help you smoothly transfer your website from Hostinger.
Conclusion
In the realm of web hosting and server management, the availability of diverse options plays a pivotal role in discovering the perfect solution tailored to your specific needs. By delving into the features, advantages, and limitations of these Hostinger alternatives, you're equipped to make an enlightened decision that harmonizes with your objectives and proficiency level. Whether you're a developer in pursuit of advanced customization or a business owner seeking a seamless solution, the alternatives showcased in this article unlock a plethora of opportunities for you to select from.
Related Content: Top 25 Webmin Alternatives for Efficient Server Management and Hosting